Name: Faith Cummings
From: Roosevelt, NY
Votes: 54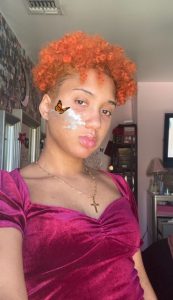 May 4, 2014.
May 4, 2014.
A day I'll never forget. But the story really starts a couple years before that when life was still easy, and honestly a bit mundane— a story of friendship, and of dance. I was nine years old on a hot summer day in a stuffy back room attached to a church. My best friend and I sat on the building's small steps, licking fresh red icies. Sweat dripped down her forehead as she polished off her treat and looked at me with a smile.
"What, Rebecca?" I asked as she walked away with a grin.
She grabbed my iPod and scrolled for a while until "Who Says" by Selena Gomez started playing from the iPod's tiny speaker. She began twirling around the room, her curly black hair swishing behind her. She sang way off key, throwing her arms wildly.
"Let's make a dance," she said, her brown eyes beaming.
"A dance? I'm not a dancer."
"But you can be."
That was the day dance and I fell in love and the bonds of friendship between Rebecca and I grew. Every Sunday after that, Rebecca and I found ourselves in that room, becoming dancers. Becoming who we are. Becoming women. That was, until I was creating art in solitude. I found myself at eleven years old, becoming a young lady alone.
Rebecca was suddenly no longer there to say, "That's not first position," or "You didn't jump high enough."
May 4, 2014.
On that day, the car had come from nowhere. We were at a stop light. It wasn't our fault. It couldn't have been. It hit my mother's car in the rear, and robbed us.
One minute we were jamming the backseat of the car, headphones tangled and laughing at people on the street— the next, complete and utter darkness. I lay in the cold lonely hospital bed. There had been a tragedy that day. My best friend had been taken from me.
"The accident was bad. No one should've survived," I overheard. I lay there, silent. I closed my eyes and pretended to be dancing again. To give myself peace of mind and to distract from the fact that at that moment, dancing — walking even — was something I couldn't do.
After a long time in the dark, Dad finally told me that Rebecca was "dancing with the angels."
That was the day that I decided if I was ever going to be a driver, I was driving safely. It's not worth robbing someone of their sister, mother, father, brother— their best friend. I often wonder if the man that hit us even cared about what he did.
I had to decide for myself after that day I was never going to be like him. I was going to drive responsibly. Not just for everyone else but for me— I'm not just living for myself any more. I'm living for the dancer that's in my heart.
One day we'll dance together again, Rebecca. I promise.