Find a California Driving School & Sign Up for Behind-the-Wheel Driving Lessons
All our Instructors are Certified and Licensed by the Dept. of Motor Vehicles. All our Instructors speak English & Spanish. They are professional, patient and dependable.

We serve Rancho Cucamonga, Fontana, Rialto, Bloomington, Riverside and San Bernardino.
Our Online Courses
Once you purchase your package a representative will be in touch to schedule your instruction.
6 hours behind-the-wheel training plus Online Driver's Education Package
6 hours behind-the-wheel training plus Online Driver's Education Package
6 hrs. Behind-the-Wheel Training- Meet at the Office
6 Hours behind the wheel training, to meet at the office ONLY.
6 hrs. Behind-the-Wheel Training- Pick up and Drop off
6 hrs. Behind-the-Wheel Training- Pick up and Drop off only for residents residing in 92335 and 92337 zip codes.
Photos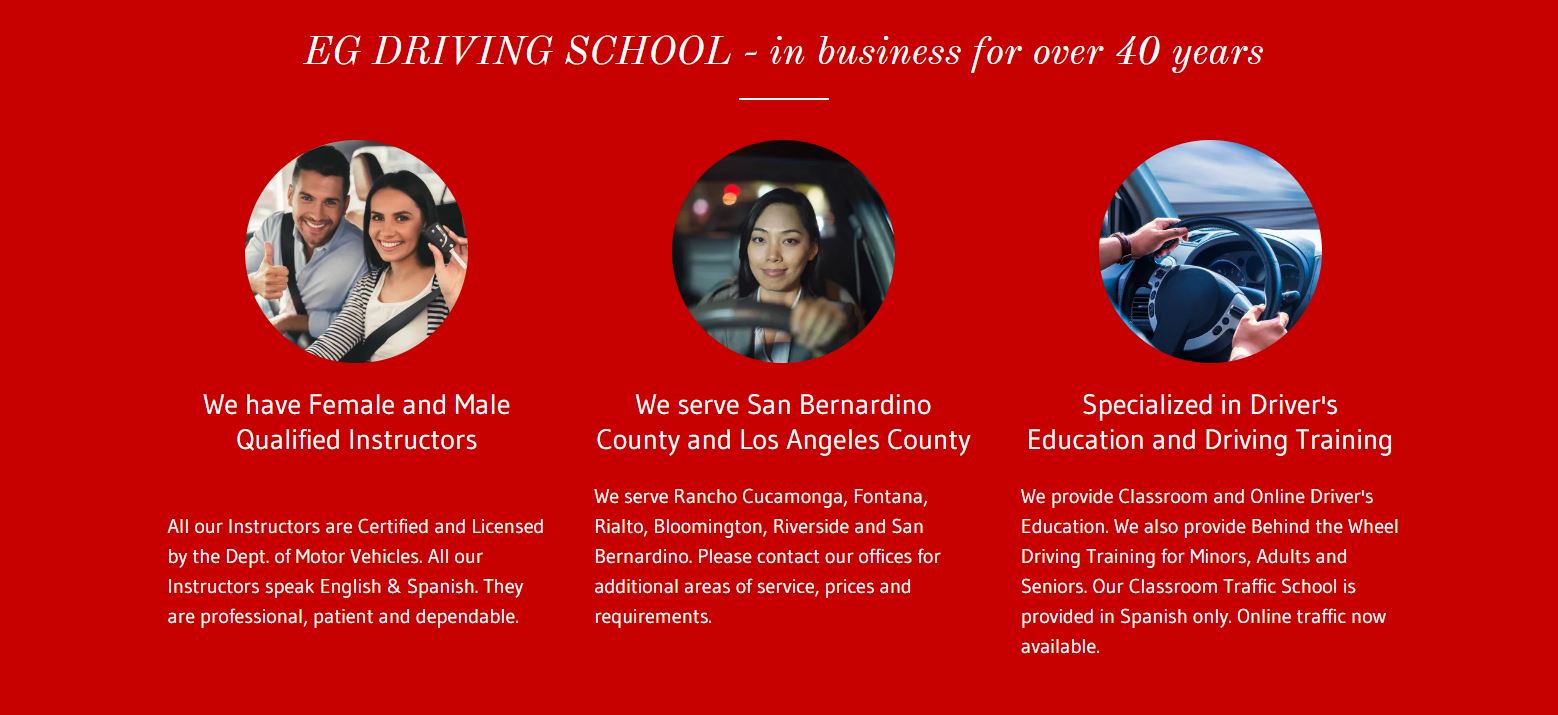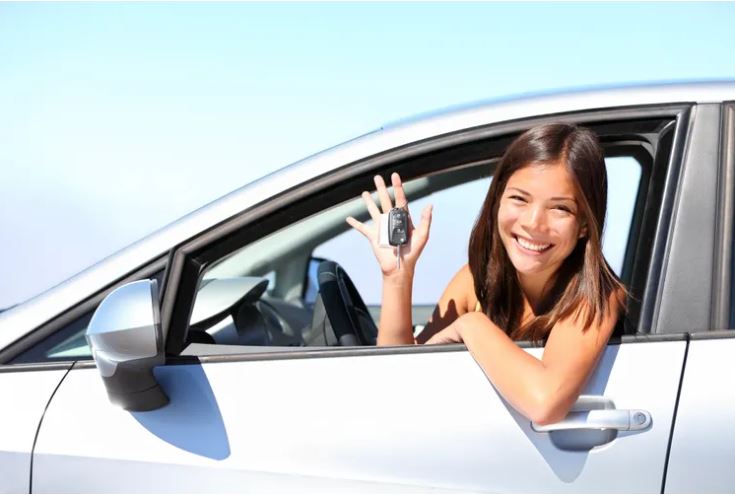 4 verified review(s)


They are very nice! Ester taught me a lot of things for my driving test and Sal also did a good job! I highly recommend EG Driving school as they are very good and friendly instructors!


Esther Garcia the owner is a nice person. She gets Right to the point. The school delivered what they promised. My sons first driver was very good and helped my kid feel relaxed. Esther did the last lesson and my son says she was a very good instructor. My son passed his drivers test with only 2 small mistakes! Thanks for your help EG


I definitely recommend this driving school. Everyone I interacted with was super nice and they even let me reserve appointments and then pay once I had all of the money together which they totally didn't have to do so I appreciate that. The best part was my instructor, Salvador!! The guy is a great driving instructor if you need someone who is very chill and doesn't want to stress you out. He is pretty straightforward which might upset some people but if you don't take things personally and value the honesty, he'd be a great match. Also, I passed my driving test so I guess he did something right!
Driver Training
The California DMV requires anyone under the age of 17 ½ to take drivers ed and a minimum of six hours of behind the wheel training in order to be eligible to receive their driver's license.
The driver training is split into 3 two hour sessions and an instructor will meet you for the instruction. The skills you will learn during the training include:
Introduction and overview on vehicle components, indicators, and systems.
Basic driving maneuvers
Lane position and sharing the road
Turning and intersections
Parking and backing maneuvers
Entering highway traffic
Exiting highway traffic
Driving on freeways and multi-lane roads
Adjusting speed to traffic and road conditions
Best safety practices
Online Driver Education
If you have not already taken a 30 hour driver education course you can also book and complete that course online.
California Drivers Ed Online course will fulfill your 30 hour mandatory DMV driver's education requirement.
For every purchase you make directly through DmvEdu.org, 10% of our fees goes to a charity of your choice!