Name: Isabel Arcellana
From: Frisco, Texas
Grade: High School Senior
School: Homeschool
Votes: 0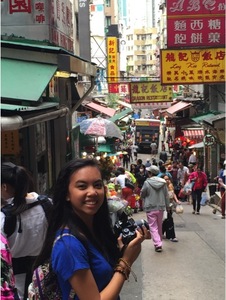 Imagine no electricity. No heaters. No sinks, or even running water. No
showers. No mirrors, even. We were smack in the middle of the woods
in Alaska, about 2 hours from civilization. This was the setting of
my favorite part of the summer of 2015.
I got to spend 2 weeks in Talkeetna, Alaska with 22 other teenagers. I
was volunteering there with an organization called HOPE Youth Corps
to run and help build a camp for kids.
I got to Alaska ready to do whatever they needed me to do. Little did I
know just how much was expected of me. Eight hours of intense
blue-collar work was not the kind of volunteering I was used to. But
that's what I had to do. I had to learn to push past discomfort and
tiredness for the two most physically challenging weeks of my life.
Together with the other volunteers, I cleared trails and mounds of
rocks, built beds, tables and sheds mostly from pieces of wood from
trees we had chopped down, dug 7-foot deep outhouse holes, cooked for
30 people, and more. All with barely any power tools. In the middle
of all that, us teenagers were also put solely in charge of planning
a church camp. We had 5 days to get ready for 30 kids to come, with
ages ranging from 5-15. We were in charge of counseling, activities,
lessons, and even food. Buying and preparing it. Everything was on
us. It seemed like an impossible amount of work to be done in such a
short time, but we had to do it. Quickly, roles were agreed upon.
Meetings were held and responsibilities given out. By the time the
kids came, we had beds built for them, tables for them to eat at,
games for them to play and Bible lessons for them to hear. The kids
had a blast. They loved every minute, and so did we.

There were moments when I was so tired that I wanted to just stop and
give up. There were times when the volunteers weren't getting along
or agreeing. Times when I couldn't lift something and times when I
got sick of using a stinky outhouse. But it was all worth it. All the
literal blood, sweat and tears were worth it. We learned to have fun
through it all, enjoying the great outdoors, working through
miscommunications and developing lifelong friendships. I learned that
I was capable of so much more than I thought I ever was. I learned
about the benefits of hard work and of doing something hard just
because it's worth it. I learned about leadership and having to do
things adults couldn't do for me. And I got to learn all these
things in the beautiful Alaskan wilderness.