Name: Mackenzie Anderson
From: Albert Lea, Minnesota
Grade: 12th Grade
School: Albert Lea Senior High School
Votes: 0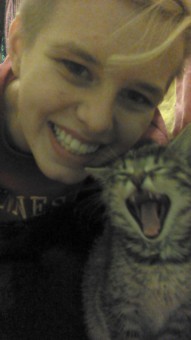 The Art of Volunteering in a Small Community
By Mackenzie Anderson
In a small town
in the Midwest, volunteer opportunities are hard to come by on your
own so getting in touch with churches or organizations is the next
best option. I decided that to be able to give back to my community,
working with a church would be my best bet. With the church, we would
do volunteer programs such as feed my starving children and Food for
the hungry, but my most rewarding volunteering I did was teach my
churches confirmation classes. From September to May, two nights a
week, for three hours, I would get to spend time with students from
6th to tenth grade, not only going through the curriculum,
but also being able to lend an ear and hear their thoughts and
feelings on anything from religion to family problems. I began to
understand that I wasn't there to teach, I was there to connect
with these kids and help them figure out what they believe and give
them an ally who understands what they're going through on a
personal level.
My biggest challenge when volunteering was when to listen and when to give
advice. I listened to some heart breaking stories of shattered home
lives and self-harm problems that I wanted to be able to change with
soothing words and cheers that it is going to be ok, but when these
kids left the safety of the rec room, who knew what their lives had
in store. I had to learn to let the student vent because, sometimes,
all they needed was someone to listen and not judge them for the
things they have done or lived through. The most rewarding part of my
volunteering is when students see me after confirmation is over and
were back in the real world. Following up with them and hearing all
the things they have changed and been able to accomplish just because
I gave them an ear or a shoulder to land on for a moment is the
biggest reward I could imagine as a volunteer.

Through volunteering, I have learned that, even though opportunities
to volunteer in smaller communities are harder to come by, but the
ability to volunteer and change the lives of people who had no one
else to turn to gives an abstract look on what volunteering is and
how, no matter how big or small, it can impact a community and change
the volunteer's outlook on life.