Name: Danny Thomas Salinas
From: Memphis, TN - Tennessee
Grade: 12
School: Christian Brothers High School
Votes: 50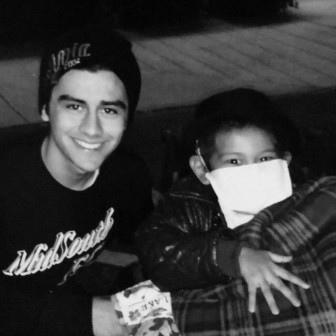 Danny
Thomas Salinas
Youth
Forward Scholarship 2016
The Beauty of Giving Back
The places I have received most of my hours have been through the St. Ann
Special Olympics, The Ave Maria Home, and St. Jude Children's
Research Hospital. I chose these places to get my hours from because
I enjoy helping people who are disabled or sick. I enjoy working in
The St. Ann Special Olympics and the Ave Maria home because my mother
herself is paralyzed from the waist down and is bound to life in a
wheel chair so I know firsthand how difficult the lives of these
people are and how helping in anyway is deeply appreciated. Every
year since the fifth grade I have participated as an angel in the
Special Olympics, helping the special athletes compete and have a
good time. I also enjoy helping at St. Jude because my sister was
once a cancer patient there. I know how difficult it is, especially
for those who travel from different countries and speak a different
dialect, to seek medical help. Spending time with the children and
seeing them having fun despite their illness is what I enjoy most. I
feel as doing these services to the community are my way to give back
for the help my family has received in our troubles.
Since my freshman year of high school I have done 85 hours of service. My
biggest challenge in doing these hours has been finding the time
between school events and soccer to do them. Another challenge is
seeing people, especially children, going through pain. Though I
ultimately enjoy helping these people most, it can be tough seeing a
person or child deal with a sickness like cancer; however this makes
me appreciate being healthy even more.

As a volunteer I have learned that life isn't so fair or easy for
everyone. All people must deal with adversity or hardships in some
form or fashion but it is our job as people to help one another
through these issues so that we can progress as a society. I see my
service as "forward looking" because even though I am about to
graduate and service hours will no longer be a requirement for me,
the willingness I have to help people and the pleasure I get from
doing so has been enforced into me because of it. The change I seek
to foster in the world through my service is that more people, like
me, who have been helped in some way or another will also give back
and lend a helping hand to a neighbor in need. In the future I would
still know that my services have deeply impacted the lives of a good
amount of people, especially those at St. Jude. The children and
families I have helped will always be grateful and hopefully,
someday, return the favor by giving back.