Name: Kara Worrells
From: San Diego, California
Grade: 12th
School: Bonita Vista High
Votes: 0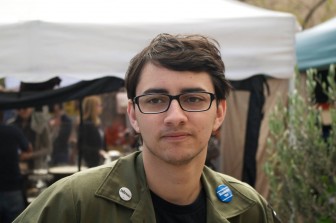 Kara
Worrells
Bonita
Vista High School
The
Beauty of Volunteerism
Volunteering in one's community gives a certain satisfaction that nothing else can. Knowing that the personal involvement contributed towards the success of an organization's goals was useful and vital in their achievement garners an overwhelming sense of fulfillment. In order to establish progress in community improvement, one must take the initiative to provide support and assistance to their community's needs. Personally, I have found that my service to community affairs has helped me grow as an independent individual and leader.
As a high school senior of the 2015-2016 school year, I have seen many of my peers lack the motivation to complete their required thirty hours of community service in order to graduate. Their personal struggle in obtaining the will to act and impact their community has always poked at my curiousity due to my own experiences with volunteering. Within the first three years of high school, I completed more than thirty hours of volunteering simply by being
proactive.
Utilizing my community resources, I founded myself engaged in the teaching of
elementary students when the Common Core program first began implemented some time ago. By assisting in the education of students barely learning the fundamental basics of English and mathematical studies, I was able to leave a lasting impression that will,
hopefully in the long run, help them remember the importance of gaining the most from their public education and shed light on the mental power gained from building knowledge. Starting with younger generations, we can make a difference in the views on education and
uphold the responsibility of its impact in developing the persistence of future generations' academic endeavors.
Aside from volunteering at an elementary school, in this respect, I have
also participated in the setup of my high school garden, which affects our community environment in a positive way. Participating in a service geared towards preserving our earth's natural resources taught me, through a firsthand account, at the lack of consideration
for fundamental elements that keep life at a balance of synergy and cooperative prosperity. Also, through this experience, and volunteering as a whole, I learned the significance of present actions that create impacting repercussions in relation to future generations. This idea of "forward looking" emphasizes virtuous consciousness and consideration for collective benefit. In unison with this idea, health is an aspect of life that is imperative for
balanced living and the preservation of core aspects of positive living.
Through attained prosperity via voluntary collaboration that is volunteerism,
a sense of unity and collective effort is gained. In ten to twenty years, I would hope to see an increase in volunteering and I would also hope to see the impacts, if any, that my actions made. To see future generations prosper by the efforts from my own, and others',
investments in their lives, is a satisfaction that no other activity can amount to. Supporting one another sets off a chain reaction of positivity and reciprocity. A community bond is essentially for the formation of basic human connections that have profound impacts on
core societal values and strengthens personal character.