Name: Monica Haugen
From: Pullman, WA
Grade: High School Senior
School: Pullman High School
Votes: 0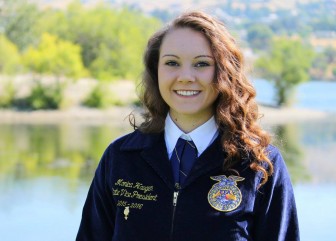 This year I have served as the Washington FFA State Vice-President. FFA is an
organization passionate about agriculture, as well as leadership. As
a state officer, I took off a year of school and work to spend the
year traveling the state and country to not only share the story of
agriculture, but help build the next generation of agriculturalists.
On average, I spend 20 days away from home each month doing FFA
activities.
We were involved in a lot of things throughout the year. We attended many agriculture
events, visited schools and hosted leadership workshops, did
community service projects, and planned the end of year state
convention.
My biggest challenge in this volunteer position was being away from home so
often. Being on the road so much is really exhausting, but thanks to
lots of caffeine and a passion for this organization, I was still
able to have energy! The most satisfying part of this year is talking
to members and students. I've gotten to hear so many incredible
stories, as well as share mine. Over the course of this year I have
learned more than I ever thought was possible. I gained knowledge
about agriculture, improved leadership skills and finally decided
what I wanted to do for a career.
I am excited to begin studying Agricultural Communications this fall, then attend
graduate school to study International Agriculture. After a trip to
Haiti, and all my experiences in this organization, I've developed
a dream of improving agriculture in developing countries.
"Forward looking" means to be thinking about the future, and planning how
you'll accomplish your goals. FFA is an organization that believes
in the future of agriculture. Everything in this organization is
based around creating a better future. Through leadership positions,
community service projects, Career Development Events based around
career skills, and agriculture based projects, FFA has definitely
helped me be "forward looking".
The last line of the FFA motto is "living to serve". I have implemented this line
into my life over the past five years and will continue to do so for
the rest of my life. With a goal of improving agriculture in
developing countries, my career will be based upon serving others.
Agriculture is such an important industry, and to have a strong
economy, you have to have strong agriculture. Helping developing
countries implement newer and more modern ways of farming will
improve their lives.
If I came back and looked on my year as a state officer, I know I would see an
impact. There are many members who have told me I impacted their
lives directly. In the Washington FFA Association, there are six
state officers every year, working to make a difference. In 10, 15 or
20 years, people probably won't remember me specifically, and
that's okay. It's not about me, it's about the organization. I
know I made a difference this year, which will continue forward for
many years to come. I wouldn't change this experience for anything.