Name: Aarron Dean Aitchison
From: Chula Vista, California
Grade: High School Senior
School: Eastlake High School
Votes: 1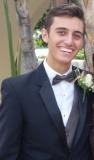 Rarely do seemingly insignificant encounters with complete strangers have such profound impact on our lives. Guarded or perhaps hampered by our own
prejudices, society's expectation and to even a greater extent our
personal experiences, I realize I have been missing out, until now.
Two years ago I began volunteering at Eastlake Community Church,
which would satisfy my 30 hour community service requirement for
graduation. In no way was I expecting this to turn into a defining
moment, shaping who I am.
I was prepared to assist the youth ministry over the course of a few Sundays, but little did I know that I would meet a young child that would change my life, and
I, his. I will refer to him throughout as "John". John, a 6th grader with special needs, struggles to communicate and according to society, has difficulty expressing himself to others. When the youth ministry leader approached me and informed me that John wanted to be in my group, I'll admit, I was nervous. Never did I think that John would later become my one-on-one partner.
I was deliberate, at first, in my attempt to win over John's approval, but I quickly realized that he was on to me. He didn't want special attention, but rather
wanted to be treated the same as the others in my group. That was a
defining moment in not only our relationship, but my life as well.
Setting aside my own apprehensions, and treating John as I would any
other student, we made a connection that will be everlasting. How
many times in my life have I purposefully avoided someone that saw as
"different"? It won't happen again, thanks to John.
I continue to volunteer one-on-one with John and have been commended by the youth ministry leader for being the first to, as she stated, "Get John to come out
of his shell". John was waiting for someone to treat him right.
He was looking for honesty, consistency, and sincerity; something we
all require. I may have had a lasting impact on John, however his
was greater on me. He made me reflect about how many people I have
judged, based on appearance or demeanor, and opened my eyes to a
world full of misperceptions. The cliché, don't judge a book by
its cover, has never been truer for me.
John helped me realize that we must approach all that life has to offer with an open mind; applying not only to one's appearance, but opinions, preferences, and
actions. If I had missed this moment in my life, I would have
continued to make decisions that would have ultimately suffocated my
potential and unwittingly the potential of others. As I prepare to
make my mark in this world as a future engineer, I cherish and carry
with me this life lesson; perhaps the most significant building block
in my cadre of tools.