Name: Matthew Braden Williams
From: Lewisville, Texas
Grade: Senior/ Grade 12
School: Hebron High School
Votes: 0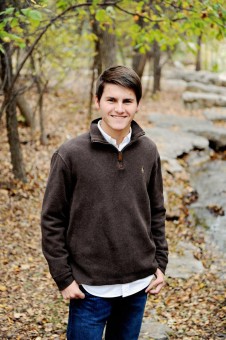 Describe a particular community involvement or voluntary activity that you
felt had a meaningful impact on your leadership abilities.
Cancer, one of the world's most destructive forces, can destroy us, or it
can mold us into versions of ourselves that we didn't even know
existed. Over the years, my friends and family alike have battled
cancer in many different forms. From my granddad, to one of my best
friend's dad, their struggles inspire me to positively affect
others' lives.
A group of five friends and I (all of us affected by the disease)
discussed the best course of action, and agreed upon having a garage
sale to raise proceeds to donate to the American Cancer Society
(ACS). We set a goal of $2,500 and got to work. We spent weeks
gathering items for the sale, using everything from clothes, to
furniture and toys. As the sale date grew closer, we turned our
attention to preparing one of our garages for the sale. With little
time to spare, we got everything done, and the two- day sale flew by.
At the end of day two, our proceeds totaled more than $5,100. After
the 2010 sale, we knew that our work was not done, and prayed that
God would continue his work through us.
He answered, and in the five following Cancer Garage sales since 2010,
the sale has grown vastly. Every sale, our donations to the ACS
increase by multiple thousands of dollars. We have grown so much that
in 2015, we donated over $38,000, a far cry from the $5,100 from
2010. In fact, at the end of our 2015 sale, our donations totaled
over $80,000. Our on-going project has brought many people good
things, but success hasn't come without learning experiences.
During the five years since the inaugural sale, we have faced many
challenges. Every year we must determine how to best manage other
volunteers, where all the items belong, and the location of the sale
itself. All of those aspects have to be sorted in order for the sale
to run as smoothly as possible. Each sale, we analyze what works
best, and then use the lessons learned to improve the way we run the
sale. For example, in 2014, we had many more volunteers than was
needed. While it was great to have a large amount of people
supporting our cause, the sale area got bogged down due to a
cluttered work space. Knowing what happened in 2014; we adapted and
scaled back the amount of volunteers for 2015, and got better
results.
Even though cancer has hurt the ones we love, a group of teens from
Lewisville, TX decided to use the situation we are in to better
ourselves, and the lives of those around us. We have grown
tremendously because we refuse to let cancer tear us down.