Name: Victoria Brooks
From: Yeadon, Pennsylvania
Grade: High School Senior
School: Academy of Notre Dame de Namur
Votes: 0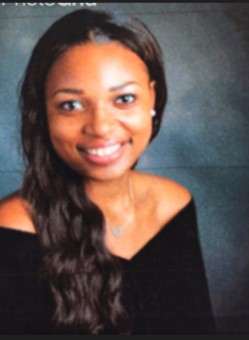 Vicky
Brooks
The
Change of Giving
I spend most of my Saturdays with my service group serving to the
homeless and the unfortunate in different parts of Philadelphia. Our
mission is to serve and worship and giving back to others is an
important act that we believe in. Starting back in 2014, I first
started volunteering at Saint Gabriel's Church in North Philadelphia.
I had no idea about what we were going to do at the church and I also
had no idea on the impact it was going to have on my life in the
future. For my first time ever volunteering outside of a school
environment, I was anxious, but excited. Giving back to people in
need was always a passion of mine and helping people is where I found
joy in my life the most. When the doors opened on that cold winter
day and it was time to get to work, the groups of hopeful faces
started to walk in. First, I started in the kitchen. I had to help
the chefs and cooks make the food to serve. The food ranged from
salad to chicken to jello for dessert. After helping out in the
kitchen, it was time to greet the families and adults that were in
need who were just looking for some comfort, generosity, and food. I
usually served them hot chocolate, coffee, or juice if kids arrived
too. They all line up and receive plates from my members and I, and
down the line they went receiving food. After serving everyone, every
couple of minutes would be someone asking for seconds or thirds, and
we would sometimes hand it to them if we had extra. Being in this
moment could not give me any preparation for what I was going to be
volunteering for that first of many weekends. Helping people is my
passion and I took this volunteering experience very seriously.
This experience with helping the homeless turned my life around and
inspired me to become an OB/GYN. Even though it is a medical
profession, I am still helping people who want help and need help. I
aspire to be an OB/GYN and start my own private practice. After my
private practice becomes real, I want to travel around the world and
help unfortunate mothers in poor countries deliver their babies and
give them the care that they need. I am determined for my aspiration
and career goal and wrote many college essays about my hopeful future
and passion. If my eyes were not open to giving back to those in
need, then it would not have an impact on my teenage life now and the
future that I have set for me.
As a caring and emotional person, I tend to sometimes let my emotions
get the best of me. I put others' feelings before my own and worry
about how the other person feels in every situation. While
volunteering for the homeless, the biggest obstacle for me would be
getting attached to them. Sometimes while serving food and drinks, I
would welcome them and start conversations to see how they were
feeling, or even how their day was. The one thing that hurt me the
most is that I was not going to see their face again for a long time.
The homeless people that came into the church to receive food were
normal people who just wanted to be loved and treated like no other,
but just with a little more compassion. I cared about them so much
that when the adults or children asked for seconds, I would sneak
them another plate- even though we weren't supposed to. I care about
the poor with a gracious amount of care and that was something that
would sadly, sometimes get in the way of my work.
With hundreds of hours of community service, my achievements of
volunteering impacted my friends and my resume for colleges. My
friends found an interest in how I devoted most of my time to the
unfortunate and I have received a lot of feedback from colleges on
how they were interested in all of my volunteer work and why it was
such a passion for me. Having a lot of experience with volunteering
and helping the homeless gave me many opportunities and has changed
my perspective on everything, and especially the whole world. I
learned that poverty is not a choice and one volunteer experience can
make a difference.