Name: Meagan Diego
From: Newark Valley, New York
Grade: 12
School: Newark Valley High School
Votes: 0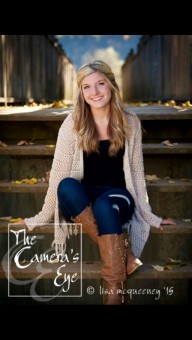 Meagan
Diego
Be the Change
If volunteering and aiding the
community can leave a positive impact on many lives, why don't more
individuals partake in it? I believe there are two types of people,
those who serve others and those who serve only themselves. Before
this year, sadly I was one of the millions of teenagers in the U.S.
that only served myself. I have to admit, I used to not care about
volunteering or serving the community because I didn't understand
the impact it could have. But my perspective has changed.
As part of health learning
program, I was able to assist and shadow medical professionals at the
hospital and medical offices around my community for six hours a
week. I encountered patients, learned from doctors, and gained
education about the necessity of healthcare. I now know community
involvement is vital if I aspire to work in the health field. How do
you treat the community if you do not know the community?
I will never forget him, one
patient who left me with an everlasting motivation. A nimble,
emaciated, middle aged man in the Intensive Care Unit. This man had
very little time left to live. He couldn't speak because of
endotracheal tubes but pointed to me and began to write. I watched as
wrote, his hand shaking, and we carried on a conversation. I'll
never forget the last words he wrote to me, "Be the change you wish
to see in the world." I had heard this phrase previously, but from
this man it had greater importance. I learned a valuable lesson that
was difficult to comprehend at the time. You must care for patients
but only to an extent. While volunteering, it was impossible not to
create connections with patients but I had to learn the truth of the
matter, not everyone will survive. This was the hardest challenge I
had to encounter.
Looking forward in the future
I will apply my knowledge of patient interaction and the importance
of helping the community based on my experiences. I have seen good
and bad and know when I am older, I will someday be the change in the
medical field towards greater patient appreciation. It wasn't just
about 125 clinical hours of community involvement; it was about the
impact I was able to have on my community. It is the satisfaction
from watching patients progress and become healthier. A simple "thank
you" for my actions. It's that rewarding feeling inside I can't
receive anywhere else.

This year, I was able to
utilize my life to better my community. From 18 to 95 I will continue
to commit myself to the lives of others. Without my volunteer
experience I wouldn't have the same outlook, I may have chosen a
different path. Although I didn't touch every life, I touched many,
and I believe in quality over quantity. If I never volunteered I
would never have touched anyone's life. I won't let that
inspiring dying man down; I will be the change.