Name: Roxanne Alvarez Segura
From: El Cajon, California
Grade: Senior
School: El Cajon Valley High School
Votes: 0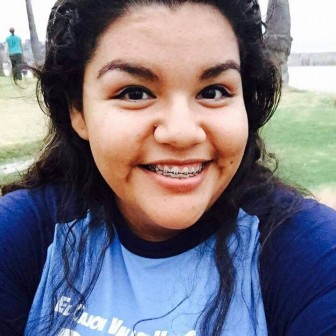 Changing
the World, One Freshman at a Time
The organization that I volunteer with is the Link Crew organization at
my school. Link Crew is a mentor ship / transitional program for the
freshman of the current year to help them better adjust to high
school. The mentors in the program consist of upperclassmen as they
already know how high school works and have already taken the classes
that the freshmen will be taking. Also, depending on the size of the
freshman class and the amount of leaders we have, some leaders may
have one or up to six freshmen assigned to them. I, alongside other
Link Crew leaders, am required to spend at least one hour with each
of my freshmen. I help my freshmen with their homework, take them on
field trips, and answer their questions. On top of mentoring
freshmen, leaders, such as myself, that do not have a seventh period,
must attend leadership meetings twice a week, during seventh period,
to learn to be a better leader and to make executive decisions as
part of the Leadership team. Furthermore, leaders must also attend
and work Link Crew sponsored events. My biggest challenge as a Link
Crew leader was having to deal with a difficult freshman. Often
times, freshmen don't always want a mentor, or get tired of their
mentor. This often gets disheartening, but it takes resilience and
patience to deal with that freshman. It happened to me a few times,
and it was heart breaking to see them go. On the other hand, what
gave me the most satisfaction as a Link Crew leader was developing
bonds with the freshmen that I mentored and stayed with me. They feel
comfortable enough to talk to me whenever they need help, or if they
ever just want to chat. They truly reach out to me as opposed to me
having to reach out to them. From participating in Link Crew, what I
found was the most important that I learned was how to interact with
people. I learned that everyone is different, which means that I
cannot approach one person the same way as I would another. I cannot
run up to a shy, timid little freshman, tousle their hair and say,
"What's up, dude?" I would have to politely sit next to them
and ease into a conversation with them. I see my participation in the
Link Crew program as "forward looking" due to the fact that the
organization's goal is to help freshman orient themselves in high
school and to find themselves faster. Having a personal mentor by
their side to support and guide them through your first year in high
school may lead them to lead others as well. Changing the life of
only one freshman is the same as changing the world. I am saying this
because that freshman's world changed as I impacted their life.
Forward looking to me means to positively impact the world. I am
certain that I have changed lives during my two years serving in Link
Crew.