Name: Jordan Takumi Davis
From: Cleveland, Ohio
Grade: 12
School: Cleveland School of Architecture and Design
Votes: 0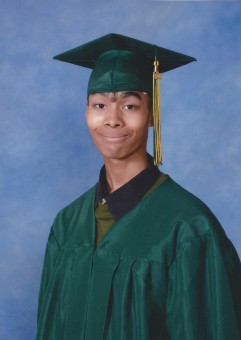 Jordan
Takumi Davis Junior
Ambassador Program Scholarship
During my 2014-2015 tenure at Cleveland Clinic, I had volunteered in sectors A30 and G21 on Wednesdays and Fridays, respectively. In the former
department, I completed solely organizational tasks including filing patient and employee paperwork, downloading MRI scans into the hospital database, and inputting data via Microsoft Excel. In the latter department, I fulfilled similar tasks. However, I not only opiers and patient rooms, composed informational packets for physicians, and took inventory of supplies.
During my 2015-2016 tenure at Cleveland Clinic, I had volunteered in the
Surgical Department in sector M20 on Mondays. There, I primarily
provided janitorial and organizational purposes. My typical tasks
included sanitizing hospital cots; manufacturing patient bags
including robes, bags, socks, and bouffants; preparing patient beds
by procuring and folding sheets, blankets, and pillows; and dusting
the waiting rooms and hallways. Some of my occasional duties included
escorting visitors to selective patients and organizing paperwork.
During my previous tenure at Cleveland Clinic, I had gained exposure to the environment of a hospital. In fact, I had never recalled any
experience inside of a hospital prior to my volunteering that year.
In light of my career aspiration of architecture, I found an
interesting alternative in Cleveland Clinic: a sterile, welcoming
center of providing remedial care with cutting edges of technology.
This experience has been expanded as I re-entered Cleveland Clinic
this school year. Working in a different department this year has
enabled me to see more of the hospital. Particularly because my
supervisors interacted with patients, I was able to obtain a more
social experience with the Clinic. To learn how to complete my
considerably more physically laborious tasks this school year, I
needed to communicate with a spectrum of people. This more prevalent
social edge will be pivotal for me to utilize as I advance to my
professional career, whether it is to become an architect or to
become a physician.
During my 2015-2016 tenure with the Cleveland Clinic, I recall working
closely with staff member Charles. One of his most essential
instructions was bed making.
One day in mid-February, I had just finished sanitizing patient cots with lorox disinfectant wipes when I consulted Charles. He asked me, "Can
you make some beds?" I replied that I was unable to. The bewildered
Charles, who thought that I was already taught how to dress the
patient cots, proceeded to teach me. While I watched him fold the
sheets across one cot, I had fuzzy memories of my father trying to
teach me how to make a bed "military style." It was not until
Charles taught me how to make the proper folds that the technique
stuck with me. From that day forward, my task list was expanded and I
was enlightened. Making a bed seems like a menial task, but it was a
key to opening more doors for me. Not only was it an additional duty
for me, but I also utilized the technique at home to keep my bed
orderly. It made my father, Charles, and my department proud to see
that I was able to learn a practical skill while volunteering.
One blazing summer day in middle school, ambition was merciless. I
wearily scanned my sweltering bedroom until I spied a crate by the
dresser. The clacking LEGO® pieces inside vaporized the invasive
summer heat. My hands erected many houses, windmills, and landscapes.
"I could make these when I grow up," I murmured to myself.

When playing with LEGO® pieces for the first time in
sixth grade, I had an immediate affinity with those iridescent
bricks. My creations allowed me to experiment with imagination and
make the rules; I found this autonomy in architecture.

To achieve my career goal of architecture, I attended
a program under architect Judson Kline. There, Mr. Kline explained,
"Of the 120,000 architects in the United States, only 2% of them
are African American; only 300 of them are women. This has not
changed for 25 years." This startling statistic gave me another
incentive to become an architect.

This goal was bolstered while I volunteered. The Junior
Ambassador Program exposed me to a field that has a similarly
disparaging demographic. A majority of the white-collared, lab-coated
physicians were Caucasian, but my supervisors were primarily African
American staff. In addition, they were quite thankful for being able
to enter the facility. Their humor and camaraderie also enabled me to
work swimmingly. This kind of social interaction is essential not
only to care giving services, but is also applicable to other fields
such as my career goal of architecture.
Viewing more ideas can create more ideas. My experiences built on my initial interest aroused by LEGO® and expanded my goal of becoming an
architect. The Junior Ambassador Program gave me social leverage and
a sense of familiarity with cooperation. Being able to communicate is
essential to completing tasks and gaining success. Brokering the
ideas of others in a cross-cultural environment is crucial to making
a conclusion.
Each time I entered Cleveland Clinic's main lobby, I felt that I had a
mission to fulfill. My volunteer shirt and tag are explicitly shown
to patients, staff, and the rest of the world, indicating my duties.
It is a profound sensation to feel needed and willing to aid others
without pay. Volunteering, however, does not require an iron-pressed
shirt or a professional badge. The altruism of the human spirit is
something potentially inherent in us all, and volunteering allows us
to exercise that sentiment. Money or direct self-interest is not
the sole incentive of waking up each day. The mere notion of helping
others can be sufficient for motivating workers known as volunteers.

One empowering fact about volunteering is that it has no resume.
Regardless of age, background, experience, or any other factors,
anybody is qualified to volunteer. In addition, any act of kindness
could be considered volunteer work; simply collecting litter is
beneficial to somebody. Both of these qualities are essential to
society. It empowers any person to perform any offered task at any
given moment. Volunteering, consequently, is an entry point for
anybody who is willing to make a change in society. I can cite my
experiences with the Junior Ambassador Program as primary examples.
Thanks to the program, I was able to assist others and expand my
personal network. Not only had I made friendships with fellow high
school students, but I have also met professionals who may aid me
during my search for a career. The greatest reward, however, was to
serve and gain the experience of being part of the community.