Name: Samaiya Butler
From: Chicago, IL
Grade: 12th
School: Spelman College
Votes: 2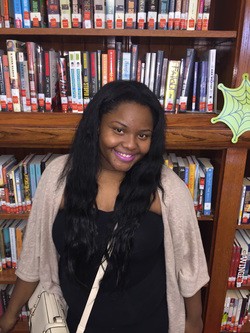 Samaiya Butler, Lindblom Math and Science Academy
The maturity of our mind, behavior, and actions simply identifies our
shift from childhood to adulthood. Once we stop perceiving good deeds
as a way to obtain reward and instead make them ethical
responsibilities, we lose our egotistic familiarity, and ultimately
become more community-oriented people.
For the last fifteen years of my life, I have always been known as "the
girl who lives in the bad neighborhood." I live in the Englewood
community of Chicago, often known as the place with a lot of gun
violence, robberies, and gang activity. Because I grew up in such an
impoverished neighborhood, it made me develop a mindset of wanting to
see my community change.
In 2010, my mother created and founded R.A.G.E – Resident Association of
Greater Englewood. R.A.G.E is an association in the Englewood
community that brings residents together to improve the neighborhood.
Since this association was so close to home, I joined R.A.G.E and
volunteered as much as possible. I set a goal for myself that I knew
I could accomplish with time and patience; I wanted to see positive
change within my community. After helping with many R.A.G.E meetings,
passing out flyers and hosting events, R.A.G.E began to get more
members to join the association.
After a year, I started to see change in my community– more gardens began
to arise, monthly community clean-ups began, events took place in
neighborhood parks, and more. Working with R.A.G.E has helped me
experience things that I never thought would be possible. As time
passed, and I began to see that more people grew familiar with
R.A.G.E, I could not believe that I was one of the residents that
contributed to the change in my community.
I decided to remain persistent with volunteering because I love
contributing to positive change in communities. This experience has
shown me that when I want something, I work hard to achieve my goals.
Learning that this is one of my strengths, I know that in the future
I will continue to keep that drive that pushes me to accomplish goals
that I set for myself.
Furthermore, volunteering has also helped me develop better leadership and
communication skills. There have been many instances where I had to
supervise meetings and personally assist with events because of my
strong management and organization skills. I have also grown
comfortable with associating with a wide variety of individuals. I
would usually dread communicating with people in Englewood, but
because R.A.G.E required connecting with residents, I was able to
become exposed to more than just the stereotyped perspective people
have on them. I also was fortunate enough to establish beneficial
relationships with residents and local politicians.
Volunteering in my community has strengthened and helped me mature in many ways;
first, it has taught me to be more accepting to people less fortunate
than me, additionally, it has allowed me to establish great
relationships with people who has strongly influenced my life and
finally, it has revealed the drive I have in myself that makes me
want to better communities.
Serving the college's community I will be attending will be a major
contribution I will sustain. My main goal will be to pursue a
position with my school's community that will utilize my knowledge
of volunteerism, leadership abilities, as well as my organizational
skills. Having decided to pursue a major in the education field will
allow me to continue to express how volunteering should be important
to our youth. As I continue to move forward in life, if there is
nothing else I can see myself doing, giving back to communities is
definitely one.