Name: Emily Threlkel
From: san luis obispo, california
Grade: 12
School: san luis obispo high school
Votes: 0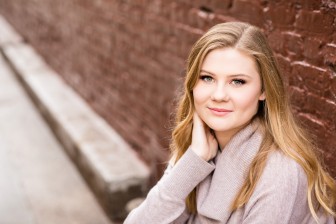 DMV Scholarship Essay
Giving back is, and always will be, a huge part of my life. I feel that if
one has the opportunity to do something for someone else, they
should. It didn't occur to me until recently how much impact one
thing could have one someone. I often volunteer for events that give
back to the community in a big way. For instance, I volunteer at the
Special Olympics, the Women's Shelter Fashion show, and Camp Reach
for the Stars. each of these events have taught me a lesson that i
can carry throughout my life.
Every year since 7th grade my cousin and I have volunteered at the Special
Olympics. Each year we get to meet new and exciting people who have
disabilities. I always look forward to going and seeing the smiles on
the participants faces when they're trying their hardest to get that
gold medal. Since I had the opportunity to do the Special Olympics at
such a young age, I've been able to see some of the participants
grow. Watching each of those olympians has shown me that no matter
what is holding someone back, there is always a way to persevere
through any obstacle.
Nothing compares to the obstacles the women at the Women's Shelter have had
to overcome. In 7th grade I was given the opportunity to raise money
for the Women's Shelter through the Phyllis Madonna's Musical
Revue. This fashion show event provides the Women's Shelter with
some of the money they need to provide women who need support, the
help they deserve. While I'm not able to meet any of these strong
women due to their security, I still feel a great sense of pride
knowing that I am giving back to my community in such a strong way. I
am both a model and a dancer in the show and although most kids my
age would rather not be there or not go to every practice, I believe
that the least we can do for the women of San Luis Obispo is to put
in a couple hours per week for a month or two to create a beautiful
show that provides a better quality of life to a portion of the San
Luis Obispo community.
Ever since I was born my grandmother, Nancy Poe, taught me to put others
before myself. Yearly, she would help Jack's Helping Hand put
together a part of Camp Reach for the Stars which is a place where
children with cancer, or who had beaten it, go with their families to
take a break from their stressful everyday lives. After my grandma
passed away I decided to continue her legacy and go to help at camp.
There, I realized that I wasn't there to please my grandma, instead I
wanted to help these kids that are so amazingly strong and can handle
more physical and mental pain than the average person can imagine.
They helped me to realize that my duty in life is to help people.
This experience inspired me to want to become a child and teen
psychologist so that I am able to help the youth of today and make
the world a better place than it already is. And that's all
community service is; an outlet for those who want to make the world
a better place than it already is.