Name: Levi Abram Casto
From: Redmond, Washington
Grade: 11th
School: Redmond High School
Votes: 0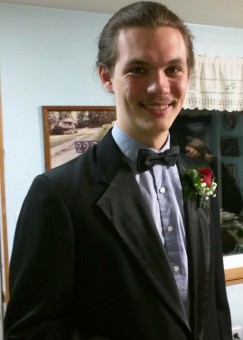 I have lived in the same city my entire life. Although it is a rapidly growing suburb
of Seattle, I, as a child, was bored by my hometown, always seeking
to travel and to experience attractions outside of the city. Without
many opportunities for youth, I never felt any considerable
attachment to my community, and always desired to visit neighboring
towns to visit their more interesting features. However, midway
through my middle school experience, this pattern was reversed
completely. At thirteen years old, I was first invited to my local
teen center. Open five days a week, the teen center created programs
and events for local youth to take part in, and to enjoy, all for
free. Events included cultural celebrations, concerts, and outdoor
sporting activities on a daily basis. Very quickly within my
experience at the teen center, I came to realize the massive
potential that it held, and the vast amount of opportunities that
teens were offered. I began to visit more and more frequently, and
came to enjoy the freedom that it allowed me to explore and develop
my own skills and interests.
After approximately a year of frequently visiting the teen center, I
was offered a position on their youth planning board, known as the
Youth Advisory Board and Advocacy (YABA). As the youngest member of
YABA, I was initially intimidated, but excited about the new
opportunity that I had to give back to the teen center as much as it
had poured into me. I began with very simple weekly events, including
juggling classes and chess tournaments, and garnered plenty of
support from other regulars of the teen center, beginning what would
eventually become a great story of community service in the city's
public facilities.
I am now about to enter my fourth year as a member of YABA. Over my
three year tenure as a YABA member, I have led innumerable programs
and events for local youth, spanning from cooking competitions, to
Thanksgiving celebrations, to philosophical seminars. However, within
the past year, I was given the greatest opportunity that the teen
center has to offer: a youth internship. As an intern for my local
teen center, I have developed an entirely new appreciation for my
city. Now, not only am I able to create my own programs for the teen
center, but I am also equipped to enable other teens to do the same.
One of my greatest responsibilities as the intern is to invite and
support other teenagers to involve themselves in the teen center, and
to inspire local youth to participate and take advantage of the
opportunities that the city can provide them. This experience has
brought me to realize exactly my ability to impact the culture of the
youth community, by inspiring local youth to express and develop
their interests in their unique fashions through the city's
facilities.