Name: Mireya Cancio
From: Los Angeles, California
Grade: 12th
School: Augustus F. Hawkins High School  
Votes: 0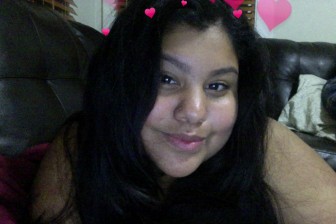 The endless world of the wise!
The world i come from is a place of endless struggles. I grew up with my
mother and two other siblings besides myself. My relationship with my mother is never the best but we have our good days. All mother and daughter relationships are never perfect. Our family tends to stay
together because we are all each other have. Besides Friends we made along the way even though we are fairly close to one another so we are all each other need. We don't have much family. The obstacles my
family has gone through have been very difficult. We would struggle from having no money to living paycheck to paycheck. I have come to understand the obstacles my mother has overcome and if wasn't for
those obstacles and those hardships i wouldn't know what being strong mentally really meant. My mother wants me to move on with my life and achieve greater accomplishments and i want the same exact thing. I grew up in an environment where no one encourages you to better yourself besides your own parents. My community has taught me a lot along the lines of what colors not to wear and the people you shouldn't associate yourself with or what time you shouldn't be out
at night.
My environment has made me strive for what i want. If it wasn't for me seeing my community the way it is i wouldn't have gone this far. The way i see my community is a place where i wouldn't want my child to grow up in. That's why i want a better future for my children or my family or even for myself and the only way to get out of this environment is to accomplish my goals. My goals in life are to be a
registered nurse or a sign language interpreter but without an education i can't go very far in life but i am not the first one in my family to go to college that's why i want to follow in my family's footsteps and be successful and have a career that i always wanted for myself . That's why i am challenging myself in taking a second semester course of ASL (American sign language) or any other course that will help me in the near future. Taking a sign language class will help me learn more than the basics that i already learned. This class will also open so many more opportunities in a job sense. Being in a large high school i wouldn't think that some people had the same interests that i have in sign language but surprisingly i met someone that did.
This world has made me think of life in a whole other perspective and made my aspirations
become a reality and if i set my mind to it i can accomplish my dreams. my environment has made me push beyond my limits. I want to see what i have in store not only for myself but for my family as
well and the others around me too. I don't only want to make my parents proud i want to make myself proud. My community , my environment , and my parent all have made me the person i am today
and and if it wasn't for all these aspects in my life i wouldn't want to get out of my comfort zone and achieve something greater and better than the place that i come from. All i want is to be a better me and see myself like i've never seen before and just achieve and experience life like i've never have.
The way I see it I don't have many accomplishments that meant everything to me but a few of them were my pride and joy .One of them being my medals for aquatics and another one being for a spelling bee that I hoped to win but never did because of the word battle. What counts is that I tried i never gave up. Even though i didn't win I felt as if i still deserved one for trying my hardest. It's not all
about winning in life it's about having the experience because a label or a medal doesn't being describe or define the person you are or are yet to become. This changed my whole perspective on life
because one award isn't who you really are it just makes you proud of who and what you are. This helped me personally and mentally because by seeing that the accomplishment isn't really of what you get it's
about how you receive and who you recieve it from. For example if you receive it from an elderly person you feel good not just inside physically but you made someone else feel good as well. putting a
smile on people's faces not only takes your mind off of your own problems it helps you realize that the world isn't as kind as you would assume it to be because life has done some brutal things to
people also by the choices that they make.
Something that describes me is I love to help my community in any way possible.
I like helping the elderly and it's not because I sympathize for them it's just the fact that they want someone to talk to and to be around and why not sit around for a while and learn something new. I
volunteer on my free time even though sometimes I'm not getting any community service hours for it I just have a passion for hospice patients. It might be their last day on this earth and they might
take their very last breath. Working, helping, and providing them with their needs hasn't only taught me so many new things for the near future it has shown me who i want to be and who I want to work
for as i grow up. My mother introduced me to that whole new lifestyle she encourages me to pursue it. I can say that helping the elderly is one of my strong suits.