Name: Daniela M Orozco Tinoco
From: Fillmore , CA
Grade: 12
School: Fillmore High School
Votes: 13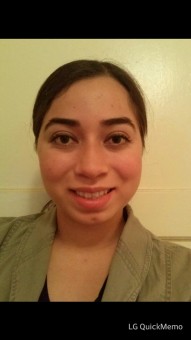 The true meaning of the word help is to give everything you have to see
others smile. Being a mentor represents for me to bring a smile in
the face of little kids with learning disabilities everyday at every
time. I feel complete when I have the opportunity to share time while
I'm with the little kids. I enjoy taking care of them, because it
is what I want to do for the rest of my life that is my mission. Take
care of others, to see them happy. In my opinion is very important to
learn that in the way in we treat others that is the way in which we
are going to be known. In my case I love to see my community helping
to one another. By that way I feel proud of where I live. I've also
serve at the church that is located at my community for over 2 years.
My community service in that area consists in helping the priest
during the mass. In addition I help in many clubs at my school some
of them are M.E.Ch.A club and Folkloric dance club. I decided to help
in these clubs because I want to demonstrate others that if we put
our work together we can make the world a better living place.
One of the bigger life lessons I ever had was when I was selected as an
Intern of the Dr Sam's Internship Program. When I receive the
acceptance letter from the Wellness Foundation Program I was the
happiness person in the world. With this opportunity I had to know
more about the different health fields in a hospital, how they work,
and very important the responsibilities that they have and the best
part to have the opportunity to help others at the hospital by
different ways: bringing the patients some water, spending time with
them hearing their stories, bringing them their breakfast, anything
they needed. It really solidified my career choice and the decision
to work in the Ventura County upon completion of my studies. I see
that our County needs a lot of help and I'm ready to give my help.
Moreover, since I was 5 years old I had the dream of wearing a white
coat and help those who are in need. I am grateful with all of the
people that have helped me because every time a person shows me their
help I learn how to help others better. In addition I will also like
to go further than only my community. I want to make a bigger impact,
I want to spread the word and put my hands in action to make real
changes. I know that it will be hard but if I try I will not lose
anything. In change I will gain more experiences, and I will try to
change others person's life to show them that we all are needed in
this world to help others and be happy of that reason.