Name: Caroline Sayers
From: Columbus, Georgia
Grade: 12th
School: Columbus High School
Votes: 0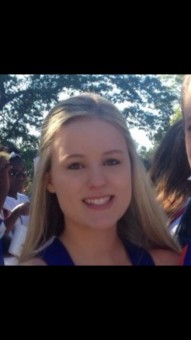 During my sophomore year of high school I began to volunteer at the Columbus
Museum to help keep art an influential aspect in high schoolers live.
Over the three years I have dedicated approximately 150 hours to the
museum by being the Vice-President of the Teen Committee and
volunteering at youth activities. My responsibilities are very
diverse ranging from planning events for teenagers and children to
creating art projects for elementary schools to pick up to replace
under-funded art programs. I think the most influential thing I have
done at the museum is create a safe-space for children and teenagers
in a critical time for art and history in the world. I have
first-hand lived through a major shift in teaching, as schools begin
to emphasis STEM subjects and subjects on standardized tests over art
and history. While I see the importance in STEM subjects, it troubles
me that it has taken away from the arts and history, to the point
where art is almost nonexistence in public schools. That is why it is
important to me to help mitigate the loss of the arts by encouraging
those affected most, high schoolers, to come to the museum and to
experience and participate in art through unique programs. The most
fulfilling part has been introducing to those teenagers who never
realized they liked art until visiting the museum because of their
lack of exposure. For example, I had a friend come to our collage
making class, and she realized she enjoyed art and went on to do her
Senior Project at Columbus High on art. I also had the honor of
attending the High Museum's Teen Convention in Atlanta, where
teenagers who volunteered met to discuss ways try to make museums
appealing to teenagers. This convention was vital because it was the
first of its kind in the Southeast to improve teenage outreach. On
behalf of the Columbus Museum, I was honored to present the ways we
have tried and improved our museum for teens and then got to hear
ideas from other museums with similar missions. It was informative
because I have been on the teen committee at the museum since its
founding, so we received innovative tips while we are still growing
teen outreach. We listened and learned about mistakes more
established teen groups had already experienced. Then we went back to
our museum and told everyone what we had learned from the convention,
and all of the interesting information on how to use social media in
our favor. The convention was a once in a lifetime opportunity I was
privileged to participate in and expand the teen committee and our
programs at the Columbus Museum.