Name: Megan Turnmeyer
From: Oshkosh, Wisconsin
Grade: 12
School: Oshkosh North High School
Votes: 151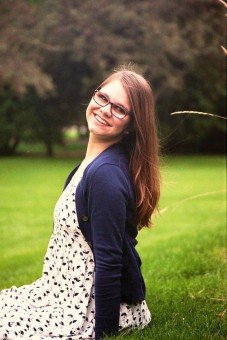 Megan Turnmeyer
Youth Forward
Scholarship
Application
Finding
my Passion: Helping people
I was introduced to an amazing program when I was in 8th grade called
Communities. Communities is a project-based learning program that
covers subjects such as English, Social Media, Social Studies,
Leadership and even Internship. I am completely grateful for this
class because I had so many opportunities in helping people and
learning that I loved to volunteer in my community. Volunteer
opportunities such as Ipads for autism, Book Drives, Awareness
fundraisers, C.A.R.E Days, Community gardens, Senior connect,
Internships and Miracle minutes. I also volunteer at elementary
schools, the high school, and Oshkosh Humane society.
I try to volunteer almost every day. I can't get enough putting a
smile on people's faces. I've been in a few fundraisers where I
was lucky enough to see the impact it has on people lives. C.A.R.E
Day was an event for students that receive adapted physical
education. I was in charge of a game at the event and I just knew
that I was a part of something truly great. I knew at that moment
helping people was my passion and I knew that I had to pursue it as a
future career.
My responsibilities as a volunteer ranged from all over. I helped senior
citizens learn technology, created and was in charge of a game at a
carnival, baby-sat during an elementary family night, helped raise
money for those who needed it, collected books for the homeless, and
lastly, I helped local business with employee responsibilities for
free. I am currently in an internship through a flower shop that
expects patience and helps me gain future career skills. I do
whatever is needed of me so that things go smoothly. It's probably
one of my hardest responsibilities to make sure that everything is
going right and that the business is not struggling by adding a
helping hand to the hard work that they put in every day. Don't get
me wrong, I love my internship! I love working with the employees and
helping them out with orders especially around big holidays like
valentines and mother's day.
I have learned a ton through volunteering and developed skills that I
wouldn't get anywhere else. I know that you can juggle a lot if you
are passionate about what you are doing. You don't need to stress
yourself out with a bunch of hours but maybe 1-3 hours a day wouldn't
hurt and would leave time out for other things like your education
and social life. The skills that I've developed are going to be
with me as I attend to college to become a neuroscientist to help
find cures. I know that I will always try to find some way to give
back and I know that I left an impact on many lives through my
volunteering. I encourage everyone to volunteer because I know it
will make you happy to make an impact on people's lives.