Name: Carol Gause
From: Mount Airy, North Carolina
Grade: Senior
School: Surry Early College High School
Votes: 1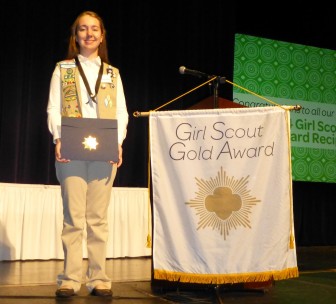 Finding
Yourself Through Service
I have been volunteering at the Mount Airy Museum of Regional History for almost a year now. The position began as a way to meet a requirement for a class, but I've been putting in extra hours for months. By leading Storybook Museum and handling the many responsibilities of managing the front desk, I have helped the community of Mount Airy as well as those who visit us.
I've expressed the most leadership skills in Student Council. After I was voted Freshman Representative, my self-confidence soared. I was in student council every year after that. Junior year I was treasurer and my senior year I was president. There were so many opportunities in Student Council to show leadership and take responsibility. The
most obvious example is the year I was president. I'll never forget my first meeting. One of my advisors pulled me aside and said that I would need to learn the importance of delegation. That's what I did. At first it was awkward to give others instructions, but in time, it got easier. When we were working as a team, we got so much more done. I still had to take responsibility and lead others, but I had help and support.
I have been a Girl Scout since I was 7 years old and have had many opportunities to get involved in my community. The biggest change I have made so far was when I earned my Girl Scout Gold Award. By planning and leading a project that involved putting into place a system of recycling plastics at a local elementary and middle school, I was creating an environmentally conscious group of individuals and helping the environment of my local community. In addition to that, the most valuable ability I gained from my time as a Girl Scout was putting my heart into my work. One summer, my troop leader asked us to write on a notecard why we became a Girl Scout. It wasn't to share or hand in— it was for us. At the end of my Girl Scouting career, I had almost forgotten about my card and what I had
written on it. After finding it again, I read that I had wanted to find a sense of purpose. Looking back on my accomplishments made me realize that I had certainly achieved that. What motivated me each day wasn't a badge or an award. I was a girl scout to work hard,
play hard, and change lives. In doing that, I found my reason to continue volunteering. It becomes incredibly easy to put your all into community service when you're not the one benefiting from it. My troop leader and fellow Girl Scouts were like a little family. How
could I not find a sense of purpose through everything we had done together? They're the ones who showed me what it means to put real love and effort into what you do. I'll never forget that lesson.