Name: Kimleng Sok
From: Columbus, Ohio
Grade: 10th
School: Franklin Heights High School
Votes: 5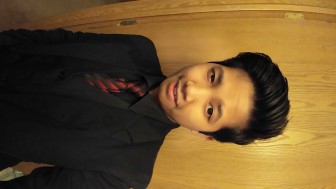 Volunteering shouldn't be a chore, volunteering should be second nature and it's
our generation and the previous ones, to make it that way. I
volunteer in many areas, homelessness, public clean up, youth art
programs, Read Across America and so much more. Every week, I put in
almost 10 hours of volunteer. Most of my responsibilities in these
programs was to lead and/or to make sure that every last thing that
is supposed to be done, is done, even if it means having to do it
myself. There are people out there who deserves more than what they
have and it is our job as a community to help.
Are there challenges in volunteering? Yes, of course there are, everything has
challenges but volunteering doesn't need to be a challenge. Some
say that time is a very big challenge to manage with volunteering.
Volunteering, does not have any time limits, even spending a minute
to help clean the community (as in picking up trash you see) is
enough to help. My challenge with volunteering is trying to get
everyone else to help out with the little things. I believe that a
lot of people do not understand that volunteering can do so much more
for our community. Volunteering, allows us to become a team, a unity,
to build and create a place where helping others is not a second
thought, but almost spontaneous. Which will allow us to show future
generation that we are all one, we are all united and happy to help
those in need.
My uncle has been a great role-model for me, showing the benefits of volunteering. Before
he passed away, I would always help him with his small restaurant and
every single day, either early in the morning or late at night, he
would leave the doors open and cook for everyone who couldn't
afford some of the food. The satisfying thing was that after everyone
has had their, they were happy, and I could see the colors appearing
once again on everyone's faces. Almost as if, their worries
disappeared. That's when I realized, that making people happy,
taking their worries away and helping was a satisfying thing. Most of
these people do not deserve to be where they are.
From this experience, I learned that helping others isn't a chore, you do not
need to spend hours volunteering, and when we all do volunteer, we
become one. Which is how society should be. It is what we do now to
help, that will show our future generations that volunteering is
something we can all do and it doesn't take much. I'm looking
forward to seeing our future generations volunteering as a community.