Name: Sophia Warner
From: Johnstown, Ohio
Grade: 12
School: Johnstown-Monroe High School
Votes: 80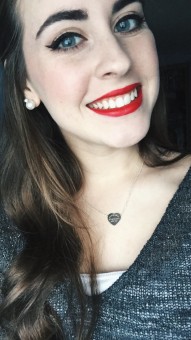 Today, our generation is knocked for being one of the worst. We are
lazy and unmotivated, bullies and snobs. We have no respect for
authority, or anyone for that matter. We think highly of ourselves
yet do not put forth any effort to make a change or use our so-called
skills for good. Why our generation? Why us? No. We need to show the
generations before us that we are not who they say we are. We are
strong, independent, and compassionate. We are leaders and helpers.
We respect all life and use our knowledge to better the world. We
volunteer.
For ten years I have been involved in volunteering and community
service through 4-H. There are 4-H programs in every state yet many
people in our generation have no clue what it is. Through 4-H you
learn skills such as sewing and cooking or you can show an animal at
your local or state fair. Not only do you learn valuable skills, you
gain admirable qualities such as responsibility, respect,
determination, patience, and kindness. 4-H has changed the way I look
at life. It has made me a better person. It has set me up for
success. My clubs and boards do community service projects every year
such as making blankets for the local nursing home, planting flowers,
and helping younger members with their projects. The biggest
challenge in volunteering in 4-H is how many hours you must put into
serving and working. For the Junior Fair Board, I work at the
fairgrounds during one week in August for about forty to fifty hours.
It is difficult to get up in the mornings and want to work, but with
the end of the week, comes great satisfaction. So many people visit
the fair that it is astounding to me that I helped by putting on
livestock shows, running activities, and making sure everything runs
as smoothly as possible. The week of the fair is my favorite week of
the entire year. I absolutely love helping and allowing people to
have fun. If no one did what I do during that week, no one would be
able to go to events like fairs, carnivals, and shows. Volunteerism
is about making others happy and bettering oneself too.
The 4-H motto is "making the best better" and I try to live
through that every day. In college, I feel it is extremely important
to continue this. I plan to major in psychology, which is a
service-based career, and participate in community service
organizations. The problem with our generation is that the world is
moving so fast around us that we cannot keep up with it. Technology
is evolving and people constantly want better-than-the-best things.
Our job is to surpass the times and show the world that we can make a
change. Something small, like volunteering at your local fair, makes
a change in someone's day. We can do this. We can make a change. We
can make the best better.