Name: Molly Johnson
From: Cypress, Texas
Grade: High School Senior
School: Cypress Ranch High School
Votes: 4857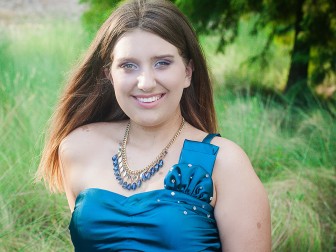 A Global Change
Community work is very importantto me. In fact, this is why I have chosen to pursue a degree in Vocational Missions. My entire life I have been told I can't do "this" or "that," because of a genetic disorder that I was born with called, Neurofibroatosis. Though it has not been easy, I have learned to overcome life's hardships and I have made it my
mission to help others do the same.
Since 2012 I have participated in a program called, "Serve Houston." This program rebuilds houses for the elderly and disabled each fall and each spring, we collect
canned goods to restock the Houston Food Bank. Since 2011, I have
worked countless hours in leadership at my church in a dance group
called, "JUMP." Each weekly performance teaches young kids
various lessons through song and dance. The JUMP team not only allows
us to perform for our own church kids, but the community's as well.
Each Christmas the "JUMP" team participates in a special
performance called, "Angels of Light." This is a weeklong event
that reaches hundreds of thousands of underprivileged inner-city
families. We have the privilege of feeding them, performing a show
and distributing Christmas presents to thousands of kids. Many
children tell us that, "this is the highlight of their Christmas"
and for most, the only present they will receive. This would have to
be the hardest part of volunteering, seeing so many undeserving kids
suffer such hardship.
I believe that by attending A.C.U.
I would be better equipped to serve along side any national outreach
program. Like many fields of study, I know that there are a limited number of jobs to many
applicants. I believe that only the best credentials will set me
apart from other students in my field of study. A.C.U. realizes that
learning about people and cultures is not always found in a textbook,
but actual hands-on experience. My instructors have had over twenty
years of experience in missions. I am excited and only look forward
to learning from them, as I know they will show me what it takes to
not only teach others to survive, but thrive in hardship situations.
My dream job would be to work for a foundation that not only encourages people spiritually, but also, meets their physical needs as well. I have helped the less fortunate
in the past by either collecting food, teaching children or
rebuilding homes. It would be a great honor to be part of a large
organization that actually makes this a better world to live in.
Thus, my ultimate goal would be to make a global change. Most would
consider this to be an impossible dream – to dream. But then again, I
believe in the impossible.