Name: Madeline Feyrer-Melk
From: Azusa, California
Grade: College Freshman
School: Azusa Pacific University
Votes: 23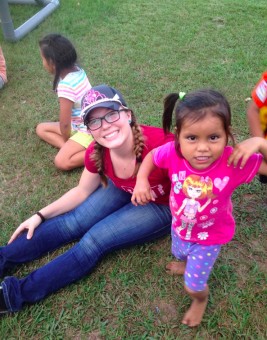 Handprints
on My Heart.
If you want to make a difference in someone's life, we all assume that
we need to go out and do something right away. But my past month in a village outside of
Pucallpa, Peru, taught me something different about service work. The
simple act of being present is enough to lead to the doing that
everyone seems to work so hard for. I have a passion for helping
children—through my church youth groups, leadership programs, girl
scouts, summer camp counseling, my medical service trip to Bolivia,
and my very recent month in Peru. The future of our world is in its
children, and every child deserves to know that they are worth
something, know that someone loves them. I look to the future,
forward looking, because that is where we will be able to
successfully see a change in our world.
Children are hard to work with. Not only are they such big balls of joy,
laughter, and most importantly, energy, but when their shaping is in
your hands it is a big deal. In Peru I worked with Kids Alive
International at their homework clubs, youth groups, Awana programs,
and in their children's home. The language barrier, although the
hardest part of this service, does not surpass the conversations that
can be had in smiles, laughter, and actions. Seeing the shy kids that
I met that first day now hanging all over me, giggling because of
cosquillos (tickles) and begging to play toca (tag), brought me so
much joy. They take joy in the little moments. Their situations at
home are unimaginable. But their smiles brighten the room. They
taught me the importance of being. Be in the moment. We get all
caught up on doing,
that we can miss out on the impact that the being
can have.
Looking
forward, I know they left handprints on my heart. I hope to do them
proud, to live a life where every moment counts, every breath is
worship. Changing the life of one child at a time fosters a world
growing in love, joy, care, laughter. I want all the children that I
work with to know that they mean
something. They are not forgotten. They are loved and prayed for and
there are people that take joy simply in their living. I want my life
to be a life that shows the importance of every individual. Children
are our future, and they deserve to know that they are loved.
One
thing I struggled with during my volunteering is if it made a
difference. Now I cant believe I could have thought that way. My time
in Peru did
make a difference. When I go back in ten, twenty, thirty years, I
will be able to see how my time, love, my simply being
with those children helped show them that they are worth it. That
they are loved.