Name: Connie Zhang
From: Berwyn, Pennsylvania
Grade: 12th
School: Conestoga High School
Votes: 0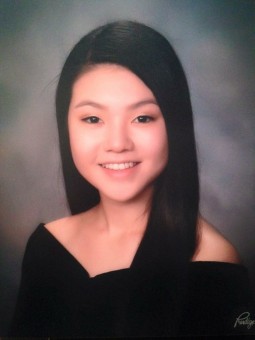 Despite having just endured a sixteen-hour plane ride to Beijing, I arrived
at my home for the next few weeks, excited to get to teach English to
Chinese students. For the past several years, I have volunteered at
a Chinese orphanage, working forty-hour weeks alongside others to
create a healthy learning environment, an opportunity to give back
and reconnect with my heritage. Every summer, I'd come equipped
with a mosquito net, Dr. Seuss books, goldfish crackers, and a
mission to impact at least one child.  From the excitement on
their faces when they saw us, the rapt attention they paid their
lessons, and the effort they took to hold still their restless knees
and tapping feet, I knew my students felt what can only be described
by a character in Chinese, le, which means something like sheer happiness.
Later, I handed out snacks to these kids. In return, they provided the quick
press of dainty rosebud lips against my cheek, an unforgettable
experience in which I learned the profoundly intimate, profoundly
human principle of giving from your whole being.
Every summer, a young girl, Lily,
would greet me by my temporary classroom door.  I
taught her how to fly a kite, how to multiply by 5's, and how to
speak conversational English, but these little things were no match
for the indelible marks her unapologetic individuality, and her brash
confidence, left on me.  I watched this girl who fearlessly
braved the harsh, blistering summer heat in order to seek water for
her family from the nearby well, who was so unflinchingly courageous
when dealt with her mother's sickness, and so wonderfully ambitious
to learn English from a stranger.  Because of children like
Lily, I know to not be afraid to take risks, to not depend on other
people's opinions of myself, to not impose boundaries on my
infinitely creative mind.  From Lily, I have learned to do more,
to be more than what is expected of me, and more than what I expect
of myself.  
In the distant future, I want to work for a nonprofit. In fact, my
dream—big enough to terrify me—is to become the President of
UNICEF. Looking forward, I hope to make an impact with childhood
education around the world, not just in my local community. With my
volunteer experience in China, I hope to use the skills and knowledge
I've gained to help further my nonprofit goals. Since
volunteering, I have grown to learn that no material object has ever contented me or
made me ecstatic or babbling joyfully the way a short, opportune
brush with these amazing kids and their infinite potential had.
Happiness is cobbled together from grass stains, dirty knees
and gap toothed grins, tiny hands and bright giggles: an emotional
fulfillment so intense that one experiences catharsis of the purest
order.