Name: Sarah Hawk
From: Towson, Maryland
Grade: 12
School: Towson University
Votes: 0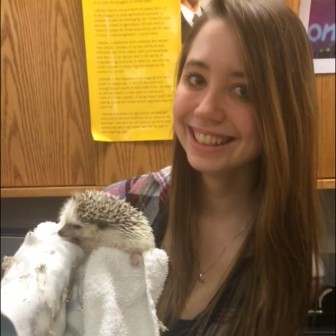 Volunteering my time at an animal shelter has been one of the most
rewarding experiences I have ever taken part in. I chose to volunteer
at an animal shelter because animals have always been a large part of
my life. From owning a variety of pets to studying animal science for
four years, I've had a lot of experience with animals in the past.
I volunteered for two hours a week for two years at Luna's House which is a local
no kill shelter. As a volunteer I cared for the small animals in the
facility. This includes rabbits, reptiles, hamsters, chinchillas,
Guinea pigs and gerbils. As a volunteer I was challenged with making
sure all of the animals were happy and healthy. I had to know what to
do if there was a problem with an animal and how to handle each
individual animal. Since some animals are more nervous and prone to
aggression it was important that I cared for the animals without
frightening them to ensure my safety and the safety of the animal.
This was challenging because every animal is different.
As a volunteer it was very satisfying knowing that I was helping make animals
healthy and happy while they were in the process of finding a new
home. Seeing animals leave the shelter was bitter sweet because
although I as sad that I would no longer see the animals I knew that
they would be happy in their new homes. Throughout this experience I
learned the value of animals. Every life matters no matter how small.
I was consistently surprised by how the animals had their own
distinct personalities and mannerisms that separated them from the
others.
Although it appears that my career goals do not align with my volunteer work, I
learned a lot of valuable lessons that will help me in the future. I
see my activity as "forward looking" because I learned skills
that I can use in my life, such as compassion and the value of
helping others. In volunteering I aimed to improve the lives of the
animals I was caring after. I believe that my activities made a
difference in not only the lives of the animals but also in the lives
of their owners. I was caring for animals that would eventually
become beloved pets. I believe that in the future the owners of these
animals would be appreciative that I helped care for the animal that
they have grown to love and care for.