Name: David Brambila
From: Lancaster, California
Grade: 11th grade
School: Quartz Hill High School
Votes: 0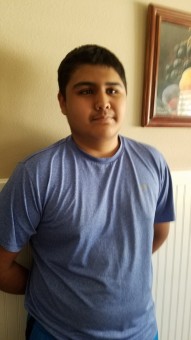 While volunteering for the MEND I volunteered in the area of people
experiencing poverty. When I was younger me and my mom used to go into the MEND building and get free things like food and toys, but I never understood what MEND was and why they were giving us free things. Later in life I found out what MEND stood for and why they gave us free things. When it came time for me to put in some community service hours decide to volunteer at the organization that helped me so I could help people who were experiencing the same as me back then.
When I decided to volunteer for the MEND I volunteered at the same place I went to get me and my mom went to get our things. I volunteered every week on Saturday for about three hours, I started volunteering since the beginning of January 2016. I mostly helped in organizing the canned foods into boxes, folding clothes, and sometimes help younger
kids with their homework. This has been the way I have been helping the MEND to this day. The most challenging things I have faced at the MEND organization is see all the people who come in with kids because it makes me sad to see so many kids who are in the same situation I was in when I was young. The most satisfying thing is knowing that
there are organizations like MEND helping those people who face poverty.
While volunteering for the MEND
I have learned many things but the main things I have learned is that
many people besides my family face poverty and I also learned that
there are people doing something to help those who face poverty just
like I did in the past. The words forward looking to me mean looking
to the future and seeing how it would affect it in the long run. The
volunteering I'm doing will keep people with food and clothes, and
I will motivate people to volunteer to help those who are facing
worse or similar things then you.
I am trying to help at least a small section of the world by be keeping
people from facing complete poverty and at the same time try to
motivate others to volunteer to make a difference in our community.
Then going from our community we start to affect the whole world to
volunteer to help those who need it. I think in the later years my
volunteer work made a difference in some people's lives because I
helped keep them fed and clothed, but at the same time it is not a
big difference because I'm one person.