Name: Diosili Salazar
From: Immokalee, Florida
Grade: 12
School: Immokalee High School
Votes: 29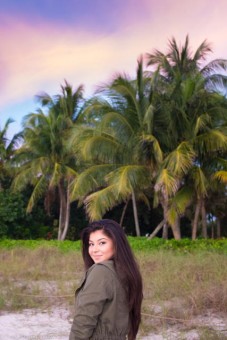 Being involved within my small community, volunteering goes a long
way. Being from a low income agricultural town I have been involved
with so many opportunities to volunteer just within my hometown. I
have come across so many people that are grateful for the extra hand.
This makes me feel so amazing and proud of where I am from.
From the summer of my freshman year to my current year in high school I have
volunteered for St. Matthews's Thrift Store, International club,
and many other organizations. I don't ever feel obligated to
volunteer because I find joy in it. While volunteering at St.
Matthews I was already aware that the funds accumulated from the
stores and donations are used toward homeless shelters, food
pantries, and a ministry. I felt truly honored to have volunteered at
this establishment for 3 years earing over 300 hours. I enjoyed
helping the customers and helping the workers that needed assistance
as well.
While I was working there I received so many smiles and thankful words of my
commitment to the store. Many people complimented the good work I
would do when decorating as well. My dedication in helping nonprofit
organizations has been rewardable in many ways. As a volunteer I have
learned to stay humble of the town I grew up in and to continue
helping others so it may reflect upon the world.
As I continue to volunteer in my community and in college "looking forward" does
affect me on a personal level. Giving a helping hand within my
community can enlighten others to help and push those affected by
poverty and other factors something to look forward too. I gladly do
what I have to do to show kindness and be better for those affected.
Even being able to pack free school supplies for students within
these public schools can help those students not worry about anything
else and continue to "look forward" to their education. Despite
all of the challenges, I believe that not having a large variety of
programs to help those in need is a huge challenge. I even find it
saddening that many struggle with health issues and this inspires me
to pursue a career in medicine. This is what I am looking forward to.
The joy I find in volunteering I hope many people can relate to it. I believe the
resources and motivation are what hold many people back from
volunteering. This is an act of kindness that should come from the
heart. You should respect everyone and help everyone because people
appreciate a helping hand. I personally believe that those days that
I volunteered could've pushed that young student to continue their
education. Maybe those days I volunteered could've made an
influence other students or made someone smile. It doesn't matter
if you made a difference or not because if you loved what you did and
you put an effort in it someone may want to follow in your footsteps
too.