Name: Cameron Marie Stevens
From: San Antonio, Texas
Grade: Senior
School: James Madison High School
Votes: 671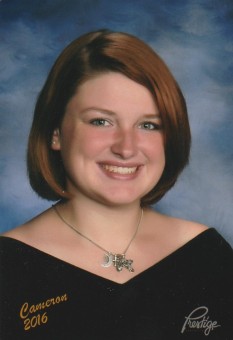 I have been volunteering as long as I can remember! As a toddler, I would go to
nursing homes and hand out stuffed animals to residents so they could
have something soft to cuddle. I believe that we all have time,
treasures or talents to share. I find myself volunteering for groups
that have touched either my life or that of someone close to me. I
recently calculated that I have spent over 600 hours volunteering
over the last 4 years.
I volunteer with Habitat for Humanity because I believe in their philosophy of a hand
up, not a hand out. I work with my church to raise the money to begin
the build then I am on the site to help build the homes. My favorite
part is the hours I spend writing bible verses on every support beam
of the house!

I am also part of the Great Gluten Escape, a 7 day/6-night camp for
kids with celiac disease. I was a camper for 8 years, served as a
junior counselor last year and will go as a counselor this year. It
is the most amazing thing to see kids as they realize they don't
have to ask if the food is safe for them to eat. It is humbling to be
give back to a group that helped me come to terms with celiac disease
myself.
This year, I will be a counselor at Camp Independence, a 5-day camp for kids with
diabetes. I was diagnosed at 14 with Type 1 Diabetes so I was not
able to benefit from all this camp does for kids, but I love helping
little ones just be kids like everyone else at camp.
There are so many other "little" groups that I enjoy helping simply because my
life has been so blessed that I feel I need to give back. I have
walked all night with Relay for Life, am a team member for my church
youth group and sing in the choir, wrap Christmas gifts for Project
Elf Louise and volunteer at local elementary schools.
My biggest challenge is that I don't always have enough time to help where I
want to help. I am about to start at Texas
State University, where I will be majoring in education. The camps I
volunteer at are a major help towards my future as a teacher. Forward
looking means, to me, always thinking about how what you are doing
right now will affect the future. I seek to make a change in the
world by showing people that volunteer work isn't a chore, or
something that is required to graduate. Volunteer work is amazing,
and the experiences you have are irreplaceable and the lives you
impact are immeasurable. I want to think that the way I feel about
volunteering will rub off on my students and colleagues, and,
hopefully, cause a chain reaction that will make a lifelong
difference for our world or at least my little piece of it.