Name: Samantha Redmond
From: Hawthorne, California
Grade: 12
School: Pacific Lutheran High School
Votes: 1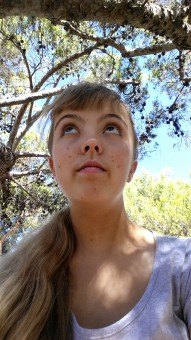 Helping
and Loving Every Minute of It
Five years ago, I never would've imagined that I'd be spending my last
summer as a high school senior volunteering at my elementary school's
preschool. However, here I am again planning to spend hundreds of
hours approximately four to five days a week working with some
wonderful children amongst a great teaching staff. It all started for
me with reading stories to the children in the evening shortly before
closing time, but it has become so much more than that now. Now the
majority of my volunteering takes place during the summer when I'm
out of school, typically from June-August, and I get to be an extra
set of eyes watching all the antics of the children ages 2-5 years
old. So why do I go back every summer and volunteer? Two reasons sum
it up best: to help and to love doing it.
Growing up as an only child, I was always the one to run around and help the
older family members, and it was never tiresome. Reaching out and
trying new things has always kept me busy, and the same is true when
working at the preschool. Of course I spend parts of my summers
spending time with friends too, but the preschool has always been
something I've committed to. I know after volunteering there for
several years that there is always something that needs to be done
but can't always be done by teachers because of the high numbers of
kids that need to be tended for. That is when my friends and I step
in; willing to do whatever it takes to get the job done. Sometimes we
do something that takes up a whole morning, like re-organizing a
dusty and cluttered closet full of craft materials and toys, while
other times we partake in activities that take only a few minutes
like putting out cots for nap time. Helping is part of the fun of
volunteering.

As a student going to college, I can relate to the pressures of trying to
decide what my future entails. What will my major be, how will that
affect my career choice and how I make a living off of it? These are
just a few of the questions that bombard seniors as they apply to
colleges and choose their majors and classes. However, volunteering
at the preschool has taught me one thing: If you don't love what
you're doing, then you probably shouldn't be doing it. Seeing
these teachers work with all the kids and enjoy it is what motivates
me to volunteer and gain the experience necessary to apply their
tactics to my own experiences as a teacher. That is something I would
love to do daily and earn a living for, and I've come to realize
that from working at the preschool. Through volunteering, I want to
help kids see their potential at a young age, something all my years
of schooling have definitely taught me.