Name: Brittani Santana
From: Bronx, NY
Grade: 12
School: Fannie Lou Hamer Freedom High School
Votes: 0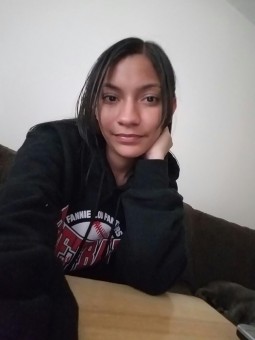 Midnight is one of a kind. She is a beautiful black cat with piercing green eyes. However, it is not only her eyes that tell a story, it is also her missing leg. I met
Midnight on my second day as a volunteer at New Beginning, the only 'No Kill' Animal Shelter in the Bronx. In other shelters, when stray animals are caught, they are given 72 hours to get adopted otherwise they are euthanized. At any other shelter, I surely would never have met Midnight. Perhaps it is ironic that a three legged cat inspired me to want to take a stand.
Volunteering has spurred me to want to take a stand against violence in my community. My mother taught me that community service is important because we need to help one another, not hurt each other. I have been volunteering at the animal shelter every weekend for almost two years. My biggest challenge is dealing with sick and aggressive animals. They do not like to take their medicine, so you have to put yourself at risk to care for them. It is also sad to see animals with a missing ear, tail, eye, leg, etc. Despite this, volunteering at the shelter always
puts a smile on my face because it feels good to do something positive for the animals. It is vital for the animals' well-being to keep them off the streets and find them a loving home.
I believe it is important to use my voice to stand up for animals (and people) without a voice. I may not be loud, I may be shy and quiet, but I can make a difference. Volunteering at the animal shelter has made me want to strive to put
an end to the 72 hour rule and animal homelessness. Some small ideas
I have include ending euthanasia in shelters, and utilizing social
media to fund-raise and raise awareness. Opening more animal shelters
could also provide more jobs for the community, which is one of the
poorest in the nation.
In addition to volunteering at the animal shelter, I joined Student Government at my school. Our school is in a neighborhood that suffers from high rates of violence. Most of us hear gun shots at night and have seen neighbors or
friends killed. To try to combat this violence, we in Student Government put together an annual Peace Block Party for our school community. The Peace Block Party was created to try to stop the violence by bringing community members together for a positive celebration. We invite speakers, create art projects together, and try to raise awareness of how violence impacts our community. We try
to let people know that we have the power to change our neighborhood.
It is forward looking to see that the Bronx can be a center of nonviolent action. Volunteering has taught me that I have the power to influence positive change. We can improve our communities and reduce violence. We are youth moving forward.