Name: Brooklyn Rapp
From: Kettering, Ohio
Grade: College freshman
School: Kettering College
Votes: 0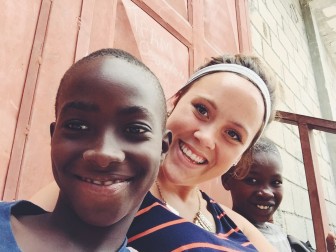 Brooklyn Rapp
April 27, 2016
Helping People who Can't Help Back
From a very young age, my parents have not only taught me the importance
of helping others, but how rewarding and beneficial it is to help
people who have nothing to offer. Over the time I was in high school
and even after, I have probably volunteered a total of 200 hours. I
have worked in food pantries, volunteered at a local hospital, went
on 4 mission trips, and even simpler jobs like picking up sticks in
my elderly neighbor's yard. In 2012, my family took our first
mission trip to Haiti, and we have taken 3 more trips to Haiti since
then. I am planning on becoming a nurse, so my passion is working in
clinics or hospitals and helping people. Each year that I have been
to Haiti I have volunteered much time working in the clinics there,
from sorting pills to working in a laboratory to even watching
surgeries. In addition, my mother started a local food bank
organization, where she buys food each week and packs "food sacks"
and sends them to children in low income families who may not have
enough to eat. I have helped her with this, sorting food and putting
it in bags and going grocery shopping for the food. It takes a lot of
time and organization, but it is satisfying to know that you are
helping someone. After I graduated high school, I started
volunteering in the emergency room at a local hospital. I would clean
off wheelchairs, take people food or drinks, make beds, wash patient
rooms, and many other tasks. This not only kept me preoccupied during
the summer, but it gave me an insight of what it will be like being a
nurse, and gave me some experience in working in a hospital setting.
Even though I did not get paid, the benefits I received from this
volunteer position has taught me so much. One of the most challenging
parts of being a volunteer is the fact that I am trying to save all
the money I can for college, and volunteering is not a paid position.
There were so many times when it would have been easier to go and
work at my job than to volunteer, but each time I chose to give up my
time for someone else it made me very happy. Going to Haiti and
working in the food pantry and the local hospital really does
demonstrate helping someone who cannot give you anything in return,
and there is nothing in the world that makes me happier. I feel so
rewarded seeing a huge smile appear on someone's face after I do
something for them, and that gives me more satisfaction than
anything. Something I have learned by being a volunteer is that even
though volunteering doesn't result in money, the mental and
emotional rewards that it produces is more valuable than any amount
of monetary wealth. It not only makes me happy, but it makes me
thankful for everything that I have, and it gives me even more
compassion for those who do not have as much as I was blessed with.