Name: Grace Ruth Pangratz
From: Aberdeen, Maryland
Grade: High School Junior
School: Harford Technical High School
Votes: 0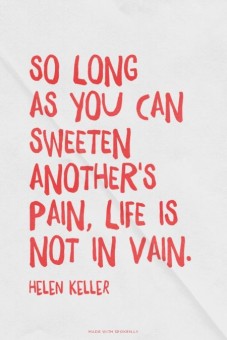 Doing my humanly duty
To me, forward looking means doing actions today that will improve the future world, this is what volunteering does. By volunteering I seek to persuade people to be kinder to one another and make a gentler world. I did not have one field that I focused my help on, as I feel each areas that need more help deserves that help, and so I will help provide that assistance. In the past year I have done 154 hours of community service, at least 3 hours a week, but it varies due to the time of year. Some more recent service activities I have done is MDA Summer Camp, which is a camp for children with muscular and neuro-muscular diseases. I have been a counselor here. The kids stay for a whole week and their counselor is their caregiver. Due to their disease they often require copious amounts of assistance eating,
using the bathroom, showering, getting dressed etc. These were my responsibilities and also my biggest challenge as a helper. The week can be very arduous in this sense, but it is so fulfilling and gratifying. It is so much fun to see the kids have uncensored fun with peers who face similar struggles as them. Seeing that is truly what gave me satisfaction through my volunteering.
Another service project I have helped with is a food drive at Bel Air United
Methodist. Here I helped packed free canned and baked goods, as well as toiletries and other necessities. These items are distributed to families in need. I also helped transport the items in shopping carts to the family's car. It truly is a humbling experience and you meet many people that are so strong and resilient, it is an honor to help them when I can.
Included in my community service life are aspects of service that revolve
around my school. I joined my peers in National Technical Honor
Society to write holiday letters to the Men of helping up mission,
these men are recovering from drug addiction and are homeless, but we
thought a good moral booster would be sincere holiday wishes. I have
done my part to help in many other areas, I was a Harford Glen
counselor, A Bocce Ball helper for John Archer's team, a nursery
worker at St. Mathew Lutheran Church, and I have donated blood
multiple times. I have learned through volunteering that being
helpful, kind and positive will always be better for you and others
in the long run. You helping another will make the world a better
place, and don't we all want a better world? In twenty years I
don't think my volunteering will have made an enormous difference
in the world, but it will have made a difference none the less. I may
have made a fond memory for a child, or helped a family get through a
tough week, that is the difference I will have made, a small but intimate difference.