Name: Brianna Bertucci
From: Chicago, IL
Grade: High School Senior
School: Reavis Highschool/Loyola University-Chicago
Votes: 0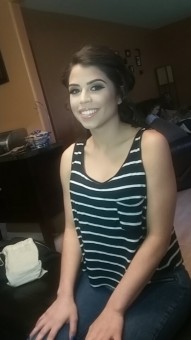 I am currently a senior at Reavis High School in Burbank, IL. I have
been accepted to be a pre-med student at Loyola University-Chicago. I
am looking forward to my experience because one of my main passions
is helping others. During my free time after school and my part time
job, I enjoy volunteering on a regular basis. One of my main
inspirations for helping others is my father. He passed away in 2011
and he was a big advocate of volunteering and giving back to the
community. He always helped when someone was in need and it really
inspired me to do the same.

As a part of the national honors
society at my high school, I tutor students that are in teachers for
the additional support and also helps lighten the teacher's daily
workload. In total I have spent over 150 hours tutoring other
students. It is a great feeling to help other people and explain
things to them in a new light. When another student reaches an
academic epiphany due to my help, I feel spectacular.
Another place that I like to
frequently volunteer at is the senior care home in my neighborhood
called Aperion Care. At Aperion care I assist the staff with talking
with the patients and playing games with them. This gives me first
hand experience on basic medical care for patients and it makes me
feel good knowing that I am helping out with patients who might not
get visited often from family members. One thing that I really
cherish about volunteering with the senior citizens of Aperion Care
is the responses and feedback that I get from the patients. They are
always happy to see me arrive and love spending time with me. The
mutual respect and joy that we share in each other's company is
altruistically rewarding.
Another place that I love to volunteer at is the Animal Welfare Center. I am
a huge animal lover so this is another perfect place for me to
volunteer. I assisted with cleaning out cages and walking the dogs.
This creates a more humane living environment for the animals which
in turn helps them get adopted. Walking the dogs also creates an
environment for them to become more social and have some time to walk
around. In the Animal Welfare Center, there is not much room to walk
around, so the dogs stay in their cages most of the time. It is nice
to make their cages clean so they can spend their time in good living
conditions. It is also a tremendous feeling to show them affection by
walking them and playing with them. It gives them hope of being
treated well.
Through my experiences in life, I have learned that life is fragile. Giving
back to the community, whether you volunteer with animals, people, or
even just cleaning up the Earth is essential to good living.