Name: Samantha Gray
From: Dover, Florida
Grade: 12th Grade
School: Strawberry Crest High School
Votes: 0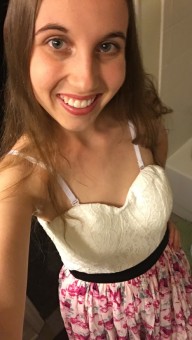 Youth
Forward Scholarship 2016 Samantha Gray
The
Impact of a Single Act of Kindness
I feel that volunteerism is extremely important for all youths to
partake in, as it causes each individual youth to make an impact. I
have made my impact by volunteering at the Central Park Nursing Home.

While volunteering at the nursing
home, I became so close with so many of the residents, especially a
woman named Theresa. Theresa is blind, and while I run Bingo games on
the weekends, I play her cards for her, while she calls out the
numbers that I draw so that the residents can hear. I love
volunteering at the nursing home because it feels absolutely amazing
to know that I brighten the days of the residents just by running
Bingo. I'll go to hand them their prize after they win a game of
Bingo-it's just a quarter- but every time they smile and they look
so appreciative of such a small gift, and it is so inspiring.
The fondest memory I have from the nursing home is from this summer. I
was informing the residents that I would be gone for two weeks
because I was going to New York with my family. Theresa got so
excited because she used to live in New York, in Brooklyn, and she
was asking me where I was going to go and what I was going to do. She
later modestly asked me if I would mind bringing her back an "I
LOVE NY" t-shirt, and I promised her that I would. When I returned
after my trip, and I told her that I actually got her the shirt, she
looked so shocked. So often the staff at the nursing home will tell
her they'll do things for her and then forget, and I know that a
lot of the time, she's stopped expecting things to be done for her.
She was so thankful for the shirt, and promised me that she would
wear it the next time I volunteered. I have never felt more
appreciated for such a simple act, and I realized that it wasn't
the act itself she appreciated, it was the fact that I took the time
to remember her, and cared about her enough to keep my word.
I don't think that people realize how much volunteers are needed at
nursing homes; I certainly did not comprehend the extent of the
necessity until I began volunteering and saw the huge impact that I
was able to make while only going a few times a month. Everyone needs
human contact and people that they can count on, and providing that
for residents is the job of a volunteer at a nursing home. I am so
grateful for the experience that I had with my service hours. My
volunteer work inspired me to major in Communication Sciences and
Disorders in college, and I aim to dedicate my life to continuing to
positively impact the people of my community.
Word
Count: 484