Name: Sarah Arriaga
From: West Covina, California
Grade: 12
School: West Covina High School
Votes: 207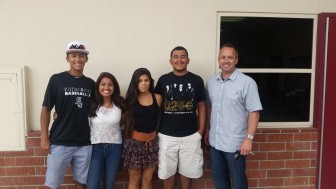 According to Longman Dictionary of American English, the definition of a community is the feeling that you belong to a group, in which people work together and help each other. The definition of service in this same dictionary is, the work that you do for someone or an organization.
If you were to ask someone what the importance of serving your community
is, many would say "because you're making a difference."
Although they are right, there is so much more to community service
than just making a difference. To me community service means going
above and beyond in efforts to give back to the community that has
given me a home, a neighborhood where I grew up and shared so many
memories with my friends and family. One of the many benefits of
giving back to my community is that it has given me opportunities to
meet new people and explore new places I've never had a chance to
see.
In the month of December, my church and I teamed up with an organization called Jackets for Jesus. Every Sunday night, this organization takes
a trip to downtown Los Angeles and hands out jackets and food to the
less fortunate. On December 20th, five days before Christmas, we not
only passed out food and jackets, but also backpacks filled with
clothes, toiletry, and a bible as a Christmas gift. When I took part
in this, it made me feel good that I was able to provide someone with
love and support in efforts to bring about a more cheerful Christmas
season. Not only did it make me feel good, but others as well.
Community service gives people an opportunity to come together from
all different backgrounds to help make the world a better place. By
taking part in it, you learn important attributes, responsibility,
strengthen your community, and gain professional experience. For
example, the time when I went to help the less fortunate, they were
so excited just to get a backpack with food and clothes. It made me
realize that I should be grateful for the things I have, and
appreciate the life that I live. The things that we might take for
granted can very well be the wants and needs of someone less
fortunate.

Giving back to my community has really helped shape me into the person I am today. I believe that students should take part in giving back so that maybe
they can experience the same things that I did. Service organizations
can help motivate young people serve their community by offering
sight programs, health programs, youth volunteer opportunities,
community and environment programs and disaster relief. Each and
every one of these services, offers a different experience that can
ultimately change a person's life for the better. By offering a wide
variety of opportunities, it can inspire a wider community of
students to take a stand and take part in their community. These
organizations are new opportunities for people who want experience,
help make a difference, become involved and give back. Overall,
community service is very important to me and I believe that more
people should get involved for the greater of our community and
helping making a difference.