Name: Ivana Margarita Navarrete Santeliz
From: Columbia, South Carolina
Grade: College Freshman
School: University of South Carolina
Votes: 1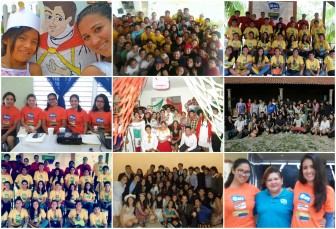 My life as a volunteer started 2 years ago after a summer camp that opened my eyes and heart to a whole new world focused on aiding and educating those with limited opportunities.
I started working with children from low-income houses who suffered of domestic violence and poverty, and helped them overcome such adversities with governmental and moral support. I proceeded to be part of two programs, one which through donations acquired food, clothes, among others for children in villages and one that encouraged the creation of strong relationships between volunteers and children in order to help them in any given situation. It was very difficult at first to remain strong after hearing so devastating
stories from children less than 15 years old, but it is for their well-being to stay as a comfort place for them, always with a smile. At the same time, I enrolled in a cultural program for exchange students where we supported them to feel comfortable in a new country while making friends and learning of the culture and environment. I have also volunteered in diverse areas for events such as the Chromebook roll-in in my current school and a parade against autism.
All of this experiences have contributed to the person I am today, and
even when I began volunteering as a "hobby" it became a passion, it is something I enjoy doing and try to drive people close to, because I believe in it. I am interested in engineering, and I never thought volunteering would influence in such, or vice versa, but it did. I realized that most of the time we consider technology as a luxury, but for some people is a need. And when for us is easy to get our food in the microwave and keep it all in the fridge, there is people struggling to stay warm in the winter. This changed my perspective of technology, and stimulated in me the need to contribute with tools that will help people who need it the most and which will hopefully help in their prosperity and wellness.
I am sure that even when all these activities seem small, they are very
big for those you are helping, and I know it because I have been told
so. There was a little girl whom I aided for 2 months, and we saw
each other for 4 hours every day, she used to look at me as some sort
of superhero. When goodbye came, she was nostalgic but happy, and
gave me a letter and a hand-made crystal heart, which for her,
represented a very strong bonding coming from her heart.
Sometimes we do not realize how lucky we are, and how much we have, and that
there are ways to share and give back. Volunteering is not something
for your resume, and it does not take as much time as people think,
but making someone smile and knowing how important you are in their
life, is worth all the sacrifice.