Name: Haley Zullo
From: Richmond, Virginia
Grade: College Freshman
School: Virginia Commonwealth University
Votes: 24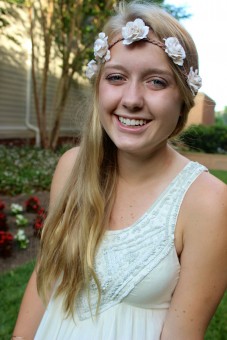 Improving the Environment to Improve Lives

I have volunteered in many different areas throughout my first year in
college, but three areas have really stuck with me: the elderly, less
fortunate, and environment. Coming to Richmond for college was a big
change and I immediately noticed something a little different about
Richmond from Northern Virginia; much of the city was old, historic,
and, run down. I'm majoring in Environmental Studies and Spanish
with a minor in Nonprofit Management at VCU, so I knew Richmond would
have many opportunities for me. When I found Project: Homes, a
nonprofit that works to revitalize and weatherize homes and build
wheelchair ramps for residents, I knew that I had found my calling. I
was able to help the environment by weatherizing homes, help the less
fortunate with revitalization, and build wheelchair ramps for the
elderly; all three areas in which I was looking to volunteer!
I was volunteering at Project: Homes in many different ways and was
learning which aspects I liked most about it. I helped with office
work, such as writing grants, to build the wheelchair ramps, and to
follow up and speak with the people we had helped. Now I volunteer
every single Tuesday from 9am-2pm performing different tasks in the
office and following up with clients.
While I do enjoy working in the office and learning new ways to manage a
nonprofit, the most gratifying part is being able to talk to the
clients we helped and see how joyed they are because of the work we
do. Even though visiting with clients is part of the most rewarding
work for me, it can also be the most challenging. When visiting a
client before we fix their home, it can be really difficult to know
there are just some things we cannot do to help. From these rewarding
and challenging experiences though, I have learned to never take my life
and opportunities for granted and to always continue giving back to
my community.
Volunteering at Project: Homes ties into my career goals and interests immensely.
While I don't have it completely figured out, I know I want to
travel to Latin American countries to work with environmental and
community based nonprofits (hence my majors and minors)."Looking
forward" to this ultimate goal, I know that Project: Homes can help
give me the vital experiences to volunteerism and nonprofit work that
school won't be able to give me.
Through my career and volunteer goals I hope to foster a world of less
suffering and more prosperity and happiness. I want to help change
people's' outlooks on life through the improvement of our
environment and way of life. If I were to come back years and years
from now, I know that I will have helped to foster this, especially
in Richmond. Through statistics and data, we can already see
improvement in the community's quality of life and well being, and I
know that my work can only continue to help it to rise even more from
here.