Name: Kaitlynn
From: South Lake Tahoe, California
Grade: Senior in High School
School: South Tahoe High School
Votes: 0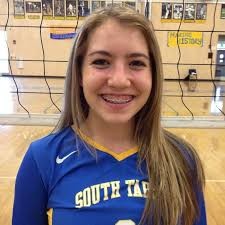 Volleyball is my life. At a young age I learned to love the sport, because of an
older girl named Sabrina Winslow. I will always remember how good she
was and how she inspired me to become a volleyball player just like
her. My community service I partake in every year is coaching and
mentoring youth players so they may be inspired like I was. Youth
sports are massively important for the growth and development of
children. With positive role models, they grow and prosper, in my
life, Sabrina was a positive role model to follow. I tried to be as
perfect as she was: all A's, superior volleyball player, and great
leader. I was inspired through elementary, middle, and high school
because of this one girl. I help coach volleyball because I want to
be what Sabrina was to me, for another girl. Every year, I am able to
reach a little girl and inspire them. They ask for help, advice, and
information, hanging onto every word I say. Inspiring and helping the
youth is why I have been volunteering since ninth grade, for almost
every two hour practice. I have accounted for more than two hundred
and twenty-five hours in the past four years. It is absolutely worth
it to see a young girls smile after I correct them on a skill, listen
to their problems, or give them comfort. That is the greatest
struggle, because I want to help and inspire the youth so much, I put
in so much time into coaching. Learning as much as I have from this
specific volunteering position, I can not only inspire the teams and
girl's individually, but I have learned how to read and adapt
coaching styles to each personality. If you have an alpha player you
will coach her differently than a beta, not every method works for
each kid. This has been an important psychology lesson for me. Then,
I was responsible for lineups, warming up the girls, running
practices when asked, and making sure each girl was ready and well in
the mental and physical aspect. One girl I help coached my freshman
year, is now a starting varsity player as a freshman. She called me
crying, telling me how much I helped her burgeon in volleyball. She
thanked me for everything I did to assist her in her growth as a
player. However, from my aspect, I only coached and was there to
listen, I played against her and the team, I helped with homework,
and was there for practices. However, I am also responsible as the
volunteer coach for lineups, warming up the girls, running practices
when asked, etc.  I did not do much to make an impact on Haley's
life and yet, she will always remember Kaitlynn Watson as coach. This
is my goal, in twenty years from now, I want these girls to remember
their old coach, the one who inspired them.