Name: Alexandra Negrin-Perea
From: Sarasota, Florida
Grade: 12th Grade
School: Sarasota Military Academy
Votes: 0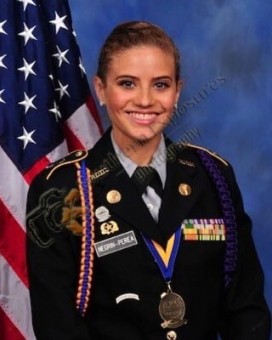 Alexandra
Negrin-Perea
Age:
18
Investing In Others through Nonprofit Organizations
I participated with All Faiths Food Bank by donating and sorting boxes
of canned goods for the homeless and less fortunate. I chose this
Food Bank after becoming aware of the expanding hunger and homeless
population in Sarasota, let alone America as a whole and the
increasing number of children and students that would go without
anything to eat once they arrived to their houses from school, the
adults that knew they would have to withstand not eating for days at
a time, and the elderly that have to dumpster diving. Furthermore, I
took part in coastal cleanups around Sarasota to keep beaches,
waterfronts, and recreational parks clean for animals, residents, and
tourists. Mostly on land, and often in canoe, I picked up debris. I
chose to partake in these cleanups after learning that our ecosystem
and the animals that keep it going were slowly dying because of all
the trash that is littered into our oceans. Every December, I
attended the wreath laying ceremony, unloaded trucks replete with
wreaths and laid them at the graves of fallen soldiers at the
Sarasota National Cemetery. I chose to participate in this event
because it never really gets easier for families to visit, especially
during the holidays. Also, I marched in parades every Veteran's and
Memorial Day to honor fallen soldiers and veterans for their selfless
service.
I volunteered at Tuttle and Gocio Elementary Schools for their Reading
Programs designed to help children that aren't able to receive one
on one instruction, due to the fact that classroom curriculum must
keep moving forward regardless of who is falling behind. As a reading
mentor, I rode the bus to Tuttle every day after school and worked
with ESOL students that were falling behind. At Gocio, I met with
lower level students every week to assure their reading skills were
improving. I chose to volunteer at these schools because it was
rewarding to see firsthand that they were advancing dramatically.
After volunteering for 387.5 hours in 4 years, my biggest challenge was
feeling like I wasn't impacting enough but came to learn it takes
one determined person pursuing conformity for others follow. I see my
activities as forward because I've volunteered for organizations
that are making a difference not only for the present world, but
generations to come. I took forward looking to mean having something
to look forward to whether that be fighting world hunger, helping
homelessness, or encourage higher level learning. I seek to be the
change I want to see in the world. What's given me the most
satisfaction is knowing I made a difference. The students began
exercising with facility a skill that they had not yet come to fully
understand the significance of but found it entertaining enough to
want to keep doing it. As they realized their own reading aptitude,
they attained the motivation to continue practicing it outside of the
classroom. My goal was accomplished as I instilled in these young
students a passion for reading.