Name: Charlie Joerger
From: West Chester, Pennsylvania
Grade: 12th Grade
School: Bayard Rustin High School
Votes: 0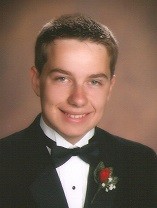 My Commitment to Volunteerism
Every day, I try to make the right choices, because all of us have make
choices that impact the lives of others, whether we know it or not.
Action and Inaction have consequences. Consider two teens living in
the inner city: one must decide what song to download on their IPod;
the other must decide where to find food to feed their family.
Incomprehensible isn't it that two people with these two choices
can actually live in the same city and actually be making those
choices at the very same time…one from the comfort of their home,
the other…homeless, but this is the reality I discovered when
helping those in need. So, I decided that I was going to do what I
could to help as many in need as I can.
In between helping my family and my homework for school, I try to find
time to help others. Most recently I personally made and donated 100
sandwiches to Safe Harbor Shelter and also cooked and served food to
Veterans at the 2015 Tailgate for the Troops.
During the holidays each year I help load donated gifts into trucks for
distribution to under privileged children for the Delaware Valley
Children's Charity and volunteer time for Westtown Parks and
Recreation serving as a tour guide. I also volunteer time at an
elementary school to help with school events and at a local church
helping to supervise and play basketball with underprivileged school
children.
Sometimes it's hard to find time to volunteer, and I always do what I can,
but I look forward to doing more. For me college is an opportunity to
do more. I feel fortunate to be able to go to college, but I am not
sure I will be able to afford all four years without help. Every day
I see college-educated people who give back by volunteering time or
working for non-profit organizations committed to helping the
underserved. It inspires and motivates me to continue to do well in
school, finish college and continue to find opportunities to do more
to help those in need and motivate others to do the same.
I always see the good in people and I truly believe that if we all try
to lead exemplary lives by helping others and encourage others to do
so, it will make the world a better place for everyone; and one day,
not only will everyone's basic needs be met, but everyone will have
a chance to reach their true potential.