Name: Olivia Fortson
From: Glenelg, Maryland
Grade: 12th
School: Glenelg High School
Votes: 0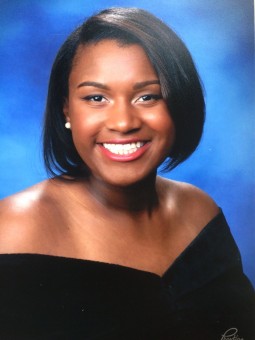 Olivia Fortson
Glenelg High School
Youth Forward Scholarship
A Kind Act Can Go A Long Way
My philosophy on the importance of helping others is if you have a roof
over your head, clothes on your back, and food in your stomach than
you have no excuse to not help someone in need. We often focus on
what we don't have or what we can't do, rather than realizing all the
things we can and use our skills to improve someone else's life. It
doesn't matter how big or small; a kind action can go a long way. It
could be as simple as donating an old coat or greeting a stranger
with a smile.
My goal is to work with corporations and help expand their networks
through promotions and events that will enrich the company's image of
peace and equality. It is very important to be proactive and learning
from mistakes so that an individual or community can move forward. I
aspire to create new and innovative ways to promote positive media
and creations that are actually important to the advancement of our
society. This scholarship would assist me in reaching this goal by
going towards my college funding so I can receive a degree from a
four-year university. I want to do more than just going to college
and finding a stable job. With a degree I hope to use that knowledge
to help create, or be involved, in a program/company that is making a
difference and bettering the next generation to ensure that they will
accomplish more than the generation before.
Helping my community is one of the most rewarding feelings i've ever had, it
is also eye-opening as well. To witness and speak with individuals
who have or are going through hardships makes me realize how blessed
I am. In recognizing how fortunate I am, I now know the immense
responsibility that it is my duty to help those that aren't as
fortunate.
As the daughter of a police officer I am often hear, "Oh your Dad is a
cop? That sucks." I don't view that as a negative thing; I am
grateful that my dad is serving his community every day, which
encourages me to do the same. A memorable community service event for
me was Junior year at the Goodwill Thanksgiving Feed the Homeless in
Baltimore City. That day I served different people from all walks of
life, however they all had the same problem. Unfortunately they were
facing the harsh realities of poverty, but they were so grateful that
for once they didn't have to worry about food, warmth, or clothing.
We provided them with shelter and warm clothes for the day, we also
served them a proper Thanksgiving meal. It was very moving to see how
a coat, meal, and a heated building made them feel like the richest
people in the world. I realized how volunteering a few hours of my
day to serve, and help others, goes a long way.