Name: Allahna Awad
From: Oxon Hill, Maryland
Grade: High School Senior (Grade 12)
School: Oxon Hill High School
Votes: 0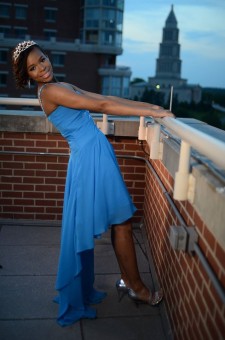 Allahna Awad
April 13, 2015
"Youth
Forward" Scholarship
At the beginning of my sophomore year, I joined a leadership club called
the Archonette Club. The Archonette Club is a youth auxiliary of
Zeta Phi Beta Sorority, Incorporated, Tau Delta Zeta Chapter, that
was created to support high school-aged young ladies grow culturally,
socially, and educationally. My mother gave me the application, and
constantly told me that this was a program I needed to be involved
in. I will never deny that I had my doubts. I had never heard of
the Archonette Club before, and I figured that my mother only spoke
highly of it because she is a part of the Zeta Phi Beta sorority. I
applied anyway because I figured that it would not hurt to have a
leadership club on my college resumé. I never thought that I would
have gained memories and relationships to last a lifetime.
When I was finally
initiated into the club, I learned that the club was very adamant
about community service. We did at least one project every month. I
remember my first service project with the club was playing bingo at
a retirement home. I learned a few things that day: 1) The elderly
take bingo very seriously, and 2) community service is so much more
than just getting hours for graduation. Community service is a
humbling and uplifting experience that shows you from one small act
of kindness, someone's entire day can be made better. My friend,
Archonette Deja, and I somehow made the days of all those in
attendance better by simply dropping all of the bingo balls on the
floor. I will never forget the joyful faces I saw that day. When
they all first walked in, they looked so devoid of hope; as if they
were just waiting for death. Yet somehow, in the two hours we spent
playing bingo and telling stories, there was a new happiness in their
eyes. One woman I was able to speak to told me something along the
lines of "I have seen so many people come here for community
service, but I have never seen anyone as genuine as you all. You
gave me hope for future generations again, and I thank you for that."
I did not know community service was able to touch the hearts of
people–I just thought it was something everyone had to do. Through
this one experience, I learned that community service–to me–is
making the world around you better from the kindness of your heart.
I am now president
of the Archonette Club, and as I am writing this, I am preparing to
clean up the Potomac River. It has been two years since my first
community service project, and I have participated in any and every
community service opportunity possible. I was recently able to use
what I learned in school to help guide Deaf individuals at the Color
Run at the National Harbor, and I go to the retirement home with the
Archonettes at least once every month. Community service has shown
me that one act of kindness can cause amazing impacts on the world.
One day, when I become successful in my own right, I plan to create
my own scholarship for those who show true desire to help their
community through volunteer service in order to encourage youth to
continue giving back to the community.