Name: Dejanee Iles
From: Palmdale, California
Grade: 11
School: William J. Pete Knight High School
Votes: 0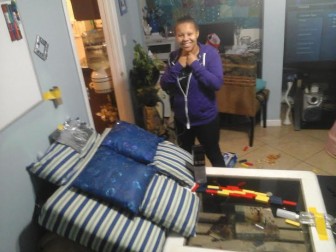 The area in which I have chosen to volunteer in is domestic animal care.
I volunteer at my local PetSmart and watch over the dogs and cats
there every weekend. I play with the dogs, feed them, and
occasionally go on walk with them and another volunteer. As for the
cats, I watch over them, feed them, and tangle around with them, if
they're up for it. I chose this area because I want to become a
veterinarian – and I have since I was 11. For as long as I can
remember, I have always loved animals. Their ways of living and
everything having to do with them, intrigues me.
I volunteer for 5-6 hours a week, going every weekend that I can. Most
times, my volunteering occurs on Saturdays, though, every once in a
blue moon, it happens on both Saturdays and Sundays, if there's a
special occasion (like a show, fair, or adoption). I believe the most
difficult part of my job may be having to possibly reject a family if
they aren't fit for the animal they want to adopt. Our job is to
find the best homes for these animals and if a family is not as ready
as they think they are, we have to let them know, and give them ways
on how they could improve and come back again next time. With that,
though, also comes the best part of my job. I get this warm, tingly
feeling whenever a family gets to take home their desired pet. It
makes me happy to see them so happy and to see their new family
member so excited to finally have the perfect home. What I've
learned from this is that it truly takes work to add and take care of
an additional family member. I never grew up with any pets, so this
never occurred to me until I began volunteering. This, though, has,
in no way, discouraged me to adopt another family member later in
life.
I see my activities as forward-looking because they correspond,
greatly, with my desired future career. Veterinarian jobs and doctors
look for graduates with some kind of experience, either with animals
or in the veterinary medicine field. This volunteer experience looks
good on my applications – from college to job – which greatly
benefits my future. "Future-looking", to me, means that my
current work will affect my future work, in all good ways possible, I
hope. The change I hope to see, via my work, is that more domestic
animal pets will be treated better than ever before. They matter too,
and I believe that more people should realize this. If I were to
return in 10-30 years, I would hope that my volunteer activities
would have made an impact on the pets and animal community. I would
hope that people recognize their faults in previously abandoning old
pets, and realize that they are living creatures, just like us, and
that they need and deserve the same care we do.