Name: Katherine Jo Rigsbee
From: Tulsa, Oklahoma
Grade: 12
School: Tulsa School of Arts and Science
Votes: 73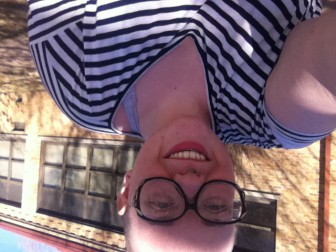 On the second day of my high school career, I had the misfortune of being kicked out of my home. Not yet diagnosed with bipolar disorder, I was prone to manic episodes that led to the destruction of many relationships I sought refuge at my sister Autumn's house.
After a pulmonary embolism a few years ago, Autumn was diagnosed with Lupus which is an autoimmune disorder that eventually led to her unemployment and discovery of Glad Wags where she found her calling training service dogs for the community. Living with a dog trainer was an odd experience at first; giving the animals affection was a rare but precious experience, maintaining a schedule with the dogs
was of the utmost importance, and the emotional reward was amazing nwhen they finally went home to their "person."
Over time, I found myself attending dog glasses with Autumn and handling the soon-to-be-service-animals on outings. This all began with Teddy, a diabetic alert dog for a ten-year-old with an unpredictable case of type-1 diabetes. I would find myself in the mindset of a ten-year-old as I helped Autumn run errands on a day-to-day basis, taking Teddy to restaurants, grocery stores, and even doctors' offices. The dogs came and went, as I began volunteering with Glad Wags on a weekly
basis as an assistant dog trainer, taking on more responsibilities as Autumn's condition worsened, developing a passion for training service animals, I even got my school's key club involved during the Poker Run, Glad Wag's main fundraiser.
Things took an unexpected turn in August of my Junior year, Autumn passed away from another pulmonary embolism. Torn apart from the death of my sister and fellow trainer, I continued to volunteer with Glad Wags, maintaining the training of Autumn's own service dog on a biweekly basis. Finding my own voice as a trainer has been one of the greatest challenges so far, but having the ability to help others while carrying on Autumn's legacy has been very rewarding.

During my education at Stephens College, I will have the opportunity to train service dogs on my own. Knowing that I will be helping countless people in need as their quality of life is improved through these dogs, is an amazing feeling. Looking into the future, I know that what I have done for my community through Glad Wags will continue to benefit for years to come. I am forever grateful for the seed that has been planted as I continue to develop, not only as a trainer but a contributor to society, improving the life of those in
need.