Name: Anika Tabassum Sardar Neela
From: Stevens Point, Wisconsin
Grade: Freshman
School: University of Wisconsin- Stevens Point
Votes: 573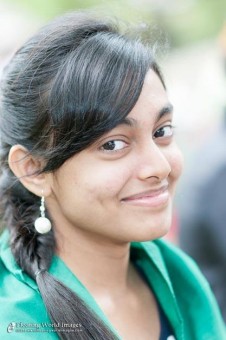 Little
More Than Pixie Dust- Anika Neela
I believe in magic ; I believe in dreams…but I believe
it takes more than just pixie dust to create magic, don't you think?
Hello everyone! A little bit about myself: I am Anika Tabassum Sardar Neela
and I am a freshman at University of Wisconsin-Stevens Point with
Computer and Information Systems as my major and Web and Digital
Media Development as my minor.
Community service has always fascinated me big time throughout my entire life.
Even though people say that in volunteer work you do not
get paid, I don't think that is completely true. I think it matters
what you think is to be a medium of payment. As for myself; I have
always been paid back with smiles!
Malala Yousafzai has been a great inspiration for me and helped me grow more
interest in human rights; in educational rights. I have done over 100
hours of certified community service at United States and got
recognition from United Nations (Alabama chapter) for it. I have also
been a SCOUT for OIS in Bangladesh where we did various community
works. But one particular volunteer work that I have been a part of,
and that I take great pride in, was the "Child Labor" initiative.
This initiative was started by my school Oxford International School
(in Bangladesh) and also some of the German exchange students and
teachers. I have been blessed to be able to help support, facilitate,
mentor and train students with educational and hygienic lessons
throughout the entire project.
But like life, not everything goes as planned and obstacles are natural.
We, as a team, have faced many challenges for this volunteer project.
Important things to note: first, Bangladesh is the 4th
largest clothing exporter in the world and second, many
underprivileged children are forced to work at factories and various
other places in order to be able to provide for their family. So, it
is predictable that neither the family nor the kids would really be
intrigued by the idea of going to school: the parents disagreed
because otherwise, they would have one more mouth to feed and one
less pair of hands to help earn; while the kids disapproved simply
because it sounded imprisoning. So, we were challenged to brainstorm
an idea that met both of their needs and demands. We came up with the
resolution that we will pay

the kids to come to school as well as play with
them to make it more fun! More like scholarship.
Great, problem solved, right? No. We had to also come up with ideas to create and maintain funds for this initiative to pay the kids and their family. So, we started raising funds for this program by asking for donations from the school, the faculty and the students as well. At the end of few weeks, we managed to collect enough money to last us a while for paying them through few semesters. (Spoiler alert: Things did not go that pretty).
At first, things ran smooth enough. We managed to get the kids come to school, and play, pay and educate them. We felt motivated and hopeful. It seemed like a win-win. But soon the initiative started to wear off since we started running out of funds to pay for the kids and this program just died off.
Throughout this whole process, I have learned the importance of not just helping, but also coming up with long-term goals and ideas. Paying the kids was a bad idea since it promoted not education, but greed. It seemed like one more chore/job for the kids and so, they were being deprived of the true joy of learning.
I think everything we do in life comes with consequences and lessons.
Doing that volunteer work certainly has a great impact on me and so,
I pursue my career with technologies because they are a powerful
medium to use as a solution in this world ; through social media,
more voices can be heard and shared; and more hands can be held for
help. This time, I am thinking of going big and doing this right!
I feel that we were on the right track at the beginning with the
concept "Think global, act local". But it almost seemed by the
end as if we were doing the right thing in the wrong way. It is high
time we fix this and get things right. Social media and technology is
a powerful combination that can help bring the positive change that
we all desperately need. Let's educate our children and promote the
idea that humanity, effort and prayers are as much important as the
pixie dust (aka dreams) in our lives.