Name: mariya areizaga
From: Richmond, Virginia
Grade: 12TH Grade
School: Varina High School
Votes: 0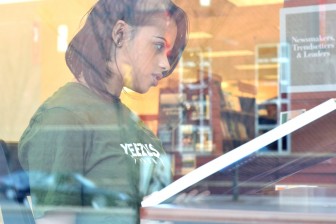 Mariya Areizaga
4701 Mulford rd
11/17/15
I believe volunteerism is a cornerstone of being an American Citizen our willingness to step up and help others during their time of need is truly rewarding to the volunteer just as much as the individual that
is receiving the helping hand. I know this first hand through my experience volunteering at Faith Landmarks Ministries Food outreach ministry. I was able to see the direct impact of my volunteerism
during my tenure in this ministry I was able to serve many families that needed assistance in feeding themselves. I was able to serve in this ministry from the time I was five years old until I was
thirteen. I have participated with the help of my family in the angel tree Christmas fund which helps under privileged children have toys to open Christmas day. In addition, as the president of Ffcla, I
encouraged members to be part of the breast cancer walk this October. We volunteered to be greeters, encouraging and supporting the people as they made strides, doing 3- to 5-miles walk. Furthermore, I
donated money for the cause as well. In doing so, it was one step closer to help ending the disease. In like matter, I am an active member in my school community, every Thursday I volunteer at my tech
center by making and selling coffee to students. The money goes to helping the organization I am in called "tech ethics". The club involves students participating in different community service
opportunities. As a matter of fact, I am going to partake in our upcoming event, which involves serving people food. It's a Thanksgiving Dinner for public and everything will be provided for free. However, I have also obtain work experience through my former jobs. Carters, Kings Dominion and my mom's cleaning business taught me how keep a level of professionalism. The different work scenarios
helped me understand the value and the challenges of working with others. To conclude in my experience volunteerism is not an individual effort it is a concerted effort by all parties involved
from the event organizers, the volunteers, the donors and the and the recipients volunteering is truly a team effort and a undertaking every citizen should engage in as you get much more out of life in
serving the needs of others than you can ever accomplish serving your own desires.