Name: Jonathan Loman
From: Bakersfield, California
Grade: 12
School: Bakersfield Christian High School
Votes: 0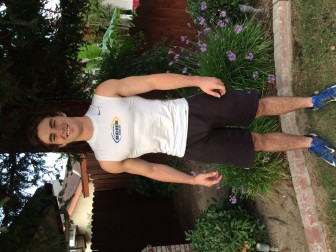 Making a Difference Around the World
There are many ways in which people can serve, many ways in which people can use their
gifts to serve there community and their world, along with worlds
beyond their own. I have been given the gift of leadership, and with
this I have chosen to lead my sports teams, my school, my community,
and across the globe.
I serve with my school and volunteer monthly to help clean up our community by simply
picking up trash along the highway. I also serve weekly as a leader
in my youth group helping set up and clean up before and after
service, even playing in worship bands and sharing my testimony with
kids who are less fortunate. Just being around these kids and giving
them an outlet improves their overall outlook on life and their
attitude with their families and friends. I have also served half way
across the world in Bucharest, Romania. While I was there I was the
leader of recreation and the leader of worship. The biggest challenge
in this role was communication. The kids we were with could not speak
much English and the people on the team didn't speak any Romanian.
Luckily the staff with children to love international were there to
help us communicate with the kids. While I was there our job was to
love on the less fortunate kids, the homeless, the orphaned and
abandoned, and the mentally and physically disabled. The most
satisfaction I have gotten out being a volunteer is seeing the kids I
have impacted grow up and reach their full potential. I have learned
that serving is not just giving money, but giving whatever you can,
however you can, whenever you can. This summer I plan on going back
to Romania and serving the community of Bucharest once again. I wish
to see the kids I minister to reach their full potential by
volunteering and poring into their lives. In 30 years I see myself
living in a foreign country doing permanent missionary work and
giving all that I can to the people who need it most.