Name: Christian Lee Evans
From: Homewood, Illinois
Grade: High School Senior
School: Homewood Flossmoor HIgh School
Votes: 0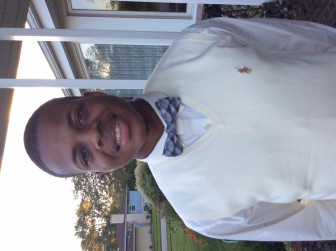 Making an Impact
By
Christian Lee Evans
I was raised by
my grandparent who inspired my interest in community service. Through
volunteering for church and community sponsored programs I was made
aware of the underserved and underprivileged in society. Seeing the
excitement in a kids eyes as he chose a pair of Nike's that I had
outgrown and the warm "thank you" from the elderly as I assists
them at my church's annual Thanksgiving and Christmas food and
clothing give-away always gives me a good feeling. At an early age
accompanying my grandparents as they volunteered during winter months
at Pads has helped to cement the values that they have instilled in
me.

Other organizations that I have volunteered for are: Catholic
Charities Back to School Fair where I helped to distribute school
supplies to low income children, Rich Township Educational Foundation
I assists with their annual fundraising campaign, mailing, and setup
for outing/events. Each has given me a sense of pride in the
knowledge that I was helping to make a difference in the lives of
others. Last summer I volunteered for a breast cancer walk. My
grandmother, who is my legal guardian is a 15-year cancer survivor.
The personal satisfaction of giving back was indescribable.
I am currently Volunteering for an after school early intervention program for
at-risk youth at Brookwood Junior High School sponsored be Reclaim a
Youth of Illinois. I serve as a helper to the Facilitators and
participates in group discussions on issues such as: self-esteem,
decisions making, peer pressure, and conflict resolution. Being
chosen to share my high school experiences and engage in meaningful
dialogue with 7th and 8th graders is very
rewarding. Although, being able to maintain tolerance and patience
for the behavior of the "class clown" or the attention seekers
can be quite challenging. I am committed to having a positive impact
on all of these students as they prepare for high school. Looking
forward I can see these bright young students pursuing a
postsecondary education, becoming doctors, lawyers, engineers,
teachers, or other careers of choice and making a difference in the
lives of others.
I have always had a passion for writing. In my Junior year in high school I joined my
school newspaper and became a sports writer. Writing sports has
ignited my passion for writing in ways that I never imagined. I love
reporting sports news in ways that excites my readers. However,
reporting sports is only a small part of my career goal. I truly
believe that volunteering has had a profound effect on my career
choice. Having awareness of, and concern for, the social issues that
plague our society, issues such as literacy, public health, poverty,
and other social injustice it is my desire to become a journalist. I
am looking forward to using my pen and voice to arouse social
awareness and promote equitable and jest treatment of society's
most deserving, the poor and aging population.